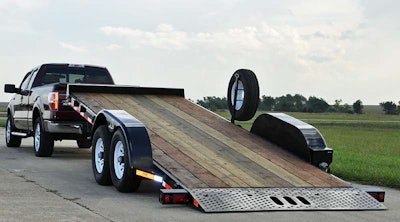 Landoll LT1220 Utility Tag Trailer is ideal for transporting smaller equipment behind HD pickups
Moving a skid-steer, mini-excavator or numerous other pieces of equipment from shop to jobsite and back is just part of the daily routine for a lot of contractors.
Having the right trailer for such tasks is just as important as the task itself because the safe transport of equipment, and the well-being of the person doing the load/unloading and towing is at stake.
Landoll's heavy-duty tandem-axle LT1220 Utility Tag Trailer covers all those trailering bases.
It's a 20′, 12,000-pound-load capacity tilt-deck model featuring a hydraulic tilt-control system that holds the deck in a tilted position during all loading/unloading operations.
A cushion cylinder tilts the deck for easy loading and unloading, and a heavy-duty bed lockdown secures the bed in transport position.
The approach plate of the powder-coated trailer is a Landoll-exclusive traction plate with four keyhole tie downs. Additional tie-down points are located all along the deck sides to make securing equipment of all types easy.
STANDARD FEATURES
Estimated Base Weight: 3,700 lbs.
Capacity 12,000 lbs.
G.V.W.R. 15,700 lbs.
Main Frame: 6″ Channel
Crossmembers: 4″ Jr. I-Beam 80,000 PSI Yield on 24″ Centers
Jack: 7,000 lb. Top Crank Bull Dog
Tires: 235/80R 16LRE
Wheels: Steel Wheels – 16.5 x 6.75 – 8-Bolt
Axles: 2 – 7,000 lbs. EZ Lubes
Suspension: Torflex Axles
Brakes: 12″ x 2″ Electric Brakes (Both Axles)
Hitch Options: 2-5/16″ Ball; 3″ Pintle Hook w/12″ Vertical Height Adjustment
Tool Box: Frme-mounted under deck
Decking: 2″ CA-B Copper Azole Treated Pine
Deck Height (Loaded): 22″
Width 80″ Inside Fenders – 102″ O.A.
Length: 20′ Tilt Deck
Load Angle: 11.4°
Tilt Cylinder: 2-1/2 x 16 Cushion Cylinder with Tilt Control System
Approach: Full Width Landoll Traction Plate
Lock Down: Positive Over Center
Lights: Sealed Beam – per I.C.C. and Federal Regulations
Electrical: 6 Pole Electric Plug – Wiring in Conduit
Fenders: 14 Gauge – Cold Rolled Formed with Back
Running Boards: 16 Gauge – Cold Roll Formed with Anti-Skid Tape
Tie Rings: 5/8″ D-Rings (4)
Stake Pockets: 4 per Side
Safety Chain: 3/8″ x 35″ – G70 Chain with GelCel Chargeable Battery and Box
Finish: Your Choice: White, Black or Yellow Non-Fading, Scratch and Chip Resistant "Powder Coat" Paint
Decals: Hi-Visibility Reflective Package