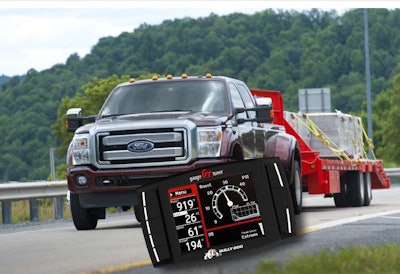 Bully Dog bumps up power on 2015 Cummins, Duramax and Powerstroke diesels
Hot off the heels of Bully Dog's GT Custom Tuning release comes the addition of pre-loaded support for the 2015 Dodge Cummins, Chevy Duramax and Ford Powerstroke line-up of heavy haulers.
"Using the 40420 GT Platinum Diesel device you can now unlock the true potential of your 2015 – 6.7L Cummins (unlock cable required), 6.6L Duramax and 6.7L Powerstroke," said Tim Roi, Marketing Director for the Derive Power brands – Bully Dog and SCT Performance.
The Bully Dog GT Platinum Diesel 2015 applications offer switch-on-the-fly power adjustments, download functions, tune safety protection (defueling), monitoring via virtual gauges and more.
Here're the power gains :
2015 Cummins 6.7L – Includes the following dyno proven tunes:
Stock: No Horsepower / Torque Gain
Tow Gains: +26HP / +8-lbs Torque
Performance Gains: +55HP / +96ft-lbs Torque
Extreme Gains: +97HP / +185ft-lbs Torque
2015 Duramax 6.6L LML – Includes the following dyno proven tunes:
Stock: No Horsepower / Torque Gain
Tow Gains: +31HP / +59ft-lbs Torque
Performance Gains: +50HP / +91ft-lbs Torque
2015 Power Stroke 6.7L – Includes the following dyno proven tunes:
Stock: No Horsepower / Torque Gain
Tow Gains: +20HP / +50ft-lbs Torque
Performance Gains: +48HP / +92ft-lbs Torque
Extreme Gains: +71HP / +145ft-lbs Torque
For dyno sheets and detailed gains visit WWW.BULLYDOG.COM