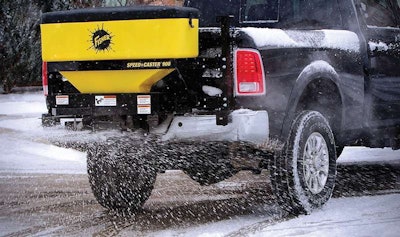 Fisher Engineering showed off three new tailgate spreader models at the 2015 The Work Truck Show: The SPEED-CASTER 900; SPEED-CASTER 525; and QUICK-CASTER 300W wireless electric tailgate spreader.
The trio of new spreaders join the lineup for the 2015-16 snow removal season.
The spreaders will be integrated into the product line alongside the brand's existing Low Profile 2500, 1000 and 500 tailgate spreaders.
The newly designed SPEED-CASTER 900 (9 cu. ft.) and SPEED-CASTER 525 (5.25 cu. ft.) tailgate spreaders are each powered by two instant-start, 12-volt electric motors, which power the heavy-duty auger delivery systems and spinner assemblies.
The SPEED-CASTER 900 model holds up to 720 lb. of bagged or bulk de-icing material and is available with optional 2″ receiver hitch, 3-point hitch and pivot/GM pivot mounts.
The SPEED-CASTER 525 model holds up to 420 lb. of de-icing material and comes standard with combination 2″ and 3-point hitch mounts.
Both the SPEED-CASTER 900 and SPEED-CASTER 525 spreader models feature a new enhanced dual variable-speed control that allows operators to match material delivery and spread patterns to conditions.
The LED control features three standard accessory buttons, a dedicated blast button and easy-to-understand digital self-diagnostics that alert the operator when the spreader is empty or adjustments are needed.
The QUICK-CASTER 300W "plug 'n' play" wireless electric tailgate spreader comes standard with a 2″ receiver hitch and 7-pin plug, making it easy to install on many vehicles without drilling or wiring.
The wireless one-touch, on/off key fob control provides convenience and offers two spinner speeds to match spread patterns to the application.
A wide variety of mounts are available, so the QUICK-CASTER 300W spreader can fit on many vehicles, including pickup trucks, SUVs, UTVs and tractors.
A fully enclosed 12-volt motor and maximum torque transmission power the QUICK-CASTER spreader's 10″ corrosion-free spinner. The hopper holds up to 3 cu. ft. of rock salt and a clear weather cover is available as an accessory.
Information on the new spreader offerings will be available in the online FISHER Spreader Showroom in April 2015.