Rotary Lift introduces a lightweight, easy-to-use jack stand designed to stabilize vehicles loaded on two-post surface and inground lifts. The new RS4 supplementary tripod jack stand features 4,000 lbs. of capacity and can be raised to a maximum height of seven feet to reach nearly any raised vehicle.
"If you look at any new two-post or inground vehicle lift, you'll see a decal that recommends the use of supplementary stands when removing heavy components," says Ron Lainhart, parts & service manager for Rotary Lift. "That's because the removal of heavy parts, like transmissions and differentials, can cause a shift in the vehicle's center of gravity. In order to prevent the vehicle from becoming unstable, it's best to have at least one supplementary stand at the vehicle's front and one at its rear during these procedures."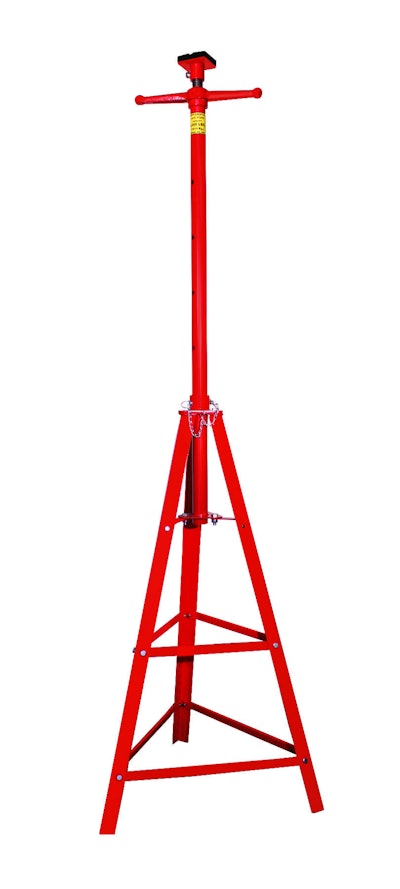 Two new RS4 jack stands can support a vehicle weighing up to 8,000 lbs. This includes most vehicles on the road today, up to and including most Class 2 pickup trucks.
To use the RS4 jack stand, simply pull the locking pin from the top of the stand, raise the column to a desired height, and reinsert the pin. A screw-up adapter at the top of the column provides a fine-adjustment range of 5.5 inches. The adapter is fitted with a rubber contact pad to ensure a secure connection with the vehicle.
"RS4 stands are easy to set up and can be carried from bay to bay depending on a shop's needs," says Lainhart. "They offer an ideal, cost-effective solution for facilities that don't need all the lifting capacity provided by Rotary Lift's heavy-duty wheel-mounted stands."
RS4 jack stands comply with the ASME PALD-2009 safety standard for portable automotive lifting devices.