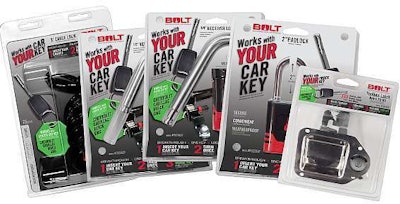 BOLT series of locks is now available to work with the high-security, center-cut key design of the 2015 GM Silverado HD, Sierra HD as well as the 2015 Colorado and Canyon models.
BOLT locks are designed to be programmed to a single truck ignition key, with products available to secure trailers, tools and gear, including:
• The weatherproof BOLT Coupler Pin Lock is designed to secure trailers when not in tow, fits the 5/8-inch GM coupler, and slides easily along stainless steel pin.
• BOLT's 5/8-inch and 1/2-inch Receiver Locks prevent theft of trailer ball mount or accessories, features a durable, solid stainless steel lock shutter designed to keep out elements and debris, and a plate tumbler sidebar that prevents picking and bumping.
• The rugged Padlock 2.0, for a range of applications, features a chrome-plated hardened steel shackle and a double ball bearing locking mechanism, made of weatherproof, corrosion-resistant automotive grade stainless steel.
• Flexible BOLT Cable Locks are made from six-foot long 1/4-inch black vinyl coated coiled cable, feature a crush-resistant body shell and an auto-return spring which locks automatically when key is removed, securing equipment, cabinets, storage compartments and more.
• The BOLT Toolbox Latch Retrofit Kit, which enables a toolbox cylinder retrofit, helps protect and secure toolboxes with an automotive-grade cylinder. Comes with an original factory handle and works with DeeZee(r), UWS Truck Accessories and other toolbox brands featuring a paddle-style handle.