[youtube UsJkxXdOiks nolink]
Quixx HRK an easy way to make dull headlights clear at new
Headlight exteriors deteriorate over time. Some faster than others. When they get that dull look, the performance of the headlights is severely affected, reducing the driver's night vision and reaction time.
An easy remedy for "foggy' headlights is to sand and polish the clear plastic covers.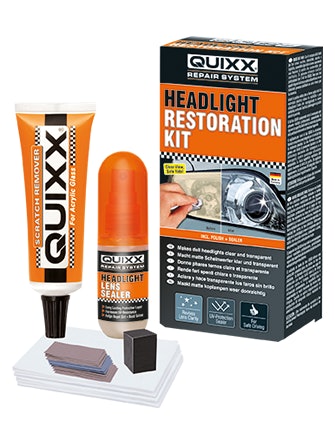 Quixx USA's Headlight Restoration Kit (HRK) restores yellowed and hazy headlights to their original crystal-clear and scratch-free finish.
The complete all-in-one-box solution includes everything necessary to achieve professional results, allowing you to repair your vehicle's plastic lens surfaces at a fraction of the cost of replacing them.
Quixx HRK can restore up to 95% of a headlight's original clarity and light performance, renewing a key safety feature of the vehicle.