Australian Manufacturer Offers three options for 2015 F-250/350
Unlike numerous aftermarket suspension systems, ARB U.S.A., tunes its suspension components specifically for the make/model of truck its going under, be it gas or diesel.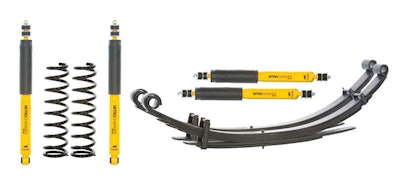 In addition, the Australian-developed suspensions, under the Old Man Emu (OME) moniker, offers a range of tuned and matched integrated suspension systems to ensure the right suspension is available to suit how the vehicle is outfitted and the conditions it will encounter.
OME now has 2-inch leveling kit, and 3- and 4-inch lift kits for F-250/350s from 2008-2015.
Individual components are also available for purchase in the traditional Old Man Emu fitment style.
The OME Engineers designed these kits to keep OEM caster and lateral position of front axle and steering geometry, while improving handling on and off-pavement.
OME also offers two different load ratings for the rear springs: a medium rating for constant loads of 1,000 pounds, and a heavy-duty spring pack (an added leaf) designed to carry 2,000 pounds constant.