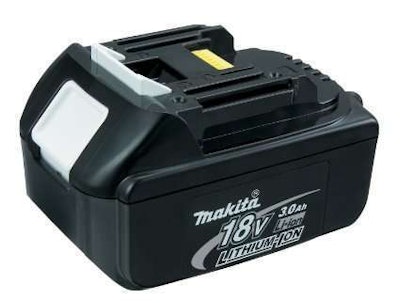 "Knock-off" Lithium-Ion batteries a big safety concern for cordless-tool users
Anyone using off-brand Lithium-Ion batteries in an effort to cut costs  may be setting themselves up for added expense according to a statement today from Makita.
Makita says their cordless-tool batteries are manufactured to strict standards, and are engineered with internal electronic circuitry to monitor the battery conditions when in use with Makita tools and chargers. 
By using a non-genuine Makita "knock-off" battery or batteries that have been altered, the sophisticated  electronic communication system between the battery and charger as well as between the battery and the tool may be defeated. 
This will result in:
• Voiding the Makita Warranty for the Makita tool and charger
• Voiding the UL/CSA Standards approval of the tool
Makita also warns cordless tool users powering up with "knock-off" batteries there is also a risk of:
• The battery bursting that may result in personal injury and/or property damage
• Possible fire damage to the tool, the battery and/or the charger
• Unknown tool performance
Makita bears no liability for accidents, personal injury or property damage (or damage to batteries, tools or chargers) that occurs as a result of the use of "knock-off" batteries, or batteries that have been repaired or altered in any way.
Don't be fooled! Genuine Makita batteries are black in color, have the Makita trademark logo with Lithium-Ion identification on both sides, and have the Makita trademark logo on the bottom of the battery.
"Knock-off" batteries may appear to be similar to genuine Makita batteries but have no Makita branding on them.