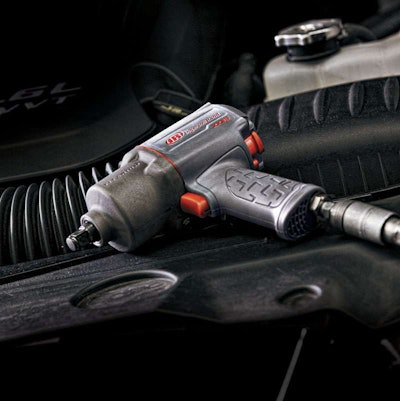 Ingersoll Rand 2235 Series Impactool Raises the Bar with Their New Flagship Pneumatic Impact Wrench 
It's the big-block of 1/2-inch air impact tools and sure to be in the toolboxes of shop mechanics and service trucks once the word is out.
Ingersoll Rand's newest of the 2235 Series Impactool is born from the legendary 2135 Series. The 2235 produces 1,350 ft-lbs. of nut-busting torque while weighing just 4.6 pounds.
It was was created to be the new go-to impact wrench for automotive technicians and industrial workers. 
The 2235 has the best power-to-weight ratio of any impact gun on the market. It's constructed with a titanium hammercase, steel-wear plate and composite housing that protects it from the toughest environments.
The motor of the 2235 is powered by Ingersoll Rand's finely tuned twin-hammer mechanism.
Backed by a two-year warranty, the 2235 Series is a pure workhorse, making it a powerful, durable and reliable impact wrench you can always count on to get real work done.