Takes the pain out of the toughest of jobs

If you are looking for hard-to-find auto parts, have your shop mechanic check out KaleCoAuto. They have it all, from muffler bearings and blinker fluid to diesel spark plugs and Johnson rods.
They even have elbow grease. Here's how they promote it:
"Ran out of Elbow Grease during that difficult project? Can't get that lugnut off your wheel? Is that engine block just too darn heavy for you to pick up on your own?
KaleCoAuto's Elbow Grease is the perfect solution for you! Made from high-quality synthetic materials, KaleCoAuto's Elbow Grease is without a peer.
WARNING: HARD WORK MAY LEAD TO INCREASED MUSCLE TONE AND BETTER OVERALL HEALTH. TO BE SAFE, YOU SHOULD USE AS LITTLE OF THIS PRODUCT AS POSSIBLE!"
Read closer and you'll find a good source of elbow grease is a little more elusive; they are out of stock.
The good news for your employees is you can make your own. The printing company that owns the website is Zazzle, and one of the many products they offer are custom labels for jars.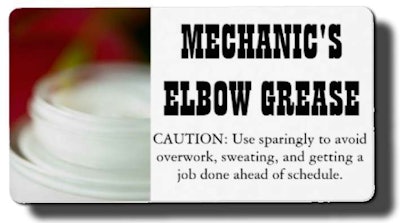 So, use Zazzle to make your own labels and put them on your special version of elbow grease.