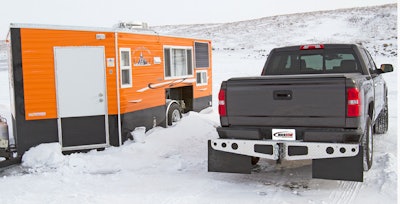 Receiver-Hitch Mud Flap System
ROCKSTAR Hitch Mounted Mud Flaps mount using the truck's receiver hitch tube to hold the bumper-like unit in place.
Built with an attractive aluminum frame and thick, anti-sail rubber flaps, ROCKSTAR Hitch Mounted Mud Flaps act as a shield to deflect rocks and road debris away from trailers, boats and RVs.
Stainless steel hardware makes it especially resilient to the corrosive effects of the road, and the model specific design offers a glove-tight fit for newer model GM, Ford and Dodge trucks.
Rockstar mud flaps are a new product from Agri-Cover, Inc., which manufacturers the ACCESS Roll-Up Covers.
CONTACT: Agri-Cover; 800-233-4655