Auburn's 9-¼ limited-slip differential delivers superior strength and performance at 25% less than OE cost
Traction is a huge factor for pickups used by contractors, construction workers, utility companies, and oil/gas field workers. Get stuck in the field and it costs time and poses potential safety risks to driver and passengers.
Auburn Gear, Inc., a leading U.S.-based manufacturer of high-performance differentials, has finally answered the call for a better limited-slip than the optional OE Chrysler 9-¼ ZF rear axle found under Ram 1500s built after 2010.
Auburn says its new aftermarket 9-¼ differential is the first to market and is designed for easy installation and higher performance than the original equipment.
This high-torque-bias
limited-slip differential
is engineered to surpass the abilities of the OE differential, making Auburn's new differential even more attractive to those who want to upgrade their drivetrains and their performance capabilities.
Auburn's design provides superior bias torque to the high-traction wheel and is compatible with gear ratios of 2.71:1 and up.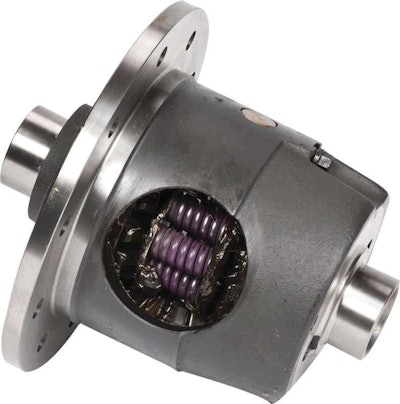 "I expect Auburn's new diff. to be stronger overall and to deliver better traction, so we'll see less one-wheel wonders," Jeremy Ayers, president of
J.T.'s Parts & Accessories
of Cashmere, Washington, said. "Auburn's products have the best warranty in the business, and the fact that their products are made in the U.S.A. is important to our customer base."
According to the terms of the D-REX Program, Auburn will replace any differential within the first four years of purchase, regardless of circumstances.
Auburn's 9-¼ limited-slip differential, model number 5420142, is expected to begin shipping on or about Sept. 30, 2014. It fits 2012 RAM 1500 Big Horn, 2014 RAM 1500 Big Horn, 2012 – 2014 RAM 1500 Express, 2013 – 2014 RAM 1500 HFE, 2011 – 2014 RAM 1500 Laramie, 2013 – 2014 RAM 1500 Laramie Limited, 2011 – 2014 RAM 1500 Laramie Longhorn, 2014 RAM 1500 Lone Star, 2012 RAM 1500 Outdoorsman, 2013 RAM 1500 R/T, 2014 RAM 1500 SLT, 2014 RAM 1500 Special Service, 2011 – 2014 RAM 1500 Sport, 2011 – 2012 RAM 1500 ST, 2011 – 2014 RAM 1500 Tradesman and 2012 RAM 1500 Tradesman HD.
Find the differential that's right for your vehicle with Auburn's new
Diff Dr.
on the Auburn Gear website.
Product information can also be obtained by contacting Auburn Gear or members of its extensive North American and worldwide distributor network and a
distributor locator
is also available on the Auburn Gear website.Auburn Gear