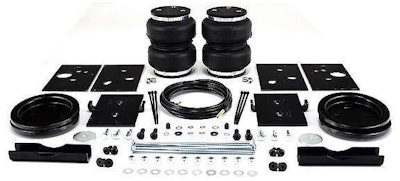 Air Lift Company says it has engineered two new load support solutions specifically developed for the redesigned suspension system on the 2014 Dodge Ram 2500 three-quarter-ton pickup truck chassis to improve ride quality, handling and safety when towing and hauling heavy loads
     
The major change to the 2014 Ram HD chassis is a new five-link-coil rear suspension system for 2500 models, and Air Lift has created two heavy-duty towing solutions for these vehicles featuring specially-engineered brackets and bags. Air Lift says its adjustable air spring kits ensure that weight is properly distributed to all four tires to maximize vehicle stability, safety and comfort.
Working with the existing suspension, air springs improve braking and steering, eliminate squat and sway and maintain ideal ride height.  
"The typical air spring solution for a coil sprung suspension, a spring placed inside the coils, wouldn't provide the level of support that a Load Lifter bag and bracket would be able to achieve which is why we developed a special solution for the heavier duty truck," Aaron Lundy, product manager, Air Lift, says.
      
For heavy duty or frequent use, Air Lift's LoadLifter 5000 kit features durable, fully-adjustable air springs that provide up to 5,000 pounds of leveling capacity, well-suited to the increased gross vehicle weight of the HD line.
      
For even greater ride support and commercial duty use, Air Lift's LoadLifter 5000 Ultimate kit provides all the benefits of the LoadLifter 5000 with the addition of an exclusive shock-absorbing internal jounce bumper to protect vehicles with heavy loads and eliminate jarring on rough roads. Virtually maintenance free, Ultimate is adjustable for a safe, comfortable ride, loaded or unloaded. Both kits are easy to install and are backed by Air Lift's exclusive lifetime warranty on the air springs, brackets, fittings and all mounting hardware.
     
For convenient air spring inflation and deflation from inside or outside the vehicle, Air Lift offers a variety of wireless and wired on-board air compressor systems.