Pro CompDouble-Row LED Light Bars
Determining which light bar to purchase can be a daunting task, but Pro Comp Explorer Double Row LED light bars offer performance, price, and reliability that make them stand out in a crowded market.
Each light bar is comprised of an array of finely tuned LEDs combined into a high-powered, easy-to-mount package, with lengths varying from 12-inches to 48-inches in 12-inch intervals.
Explorer also offers a 6-inch light bar that is a perfect fit on the top of winch fairleads or in other locations where space is at a premium.
Pro Comp Explorer Double Row LED light bars are completely waterproof, dustproof, and shockproof to provide over 50,000 hours of LED life.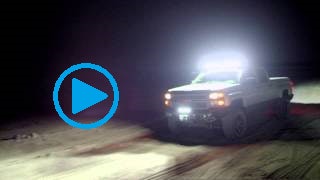 Each individual three watt Cree high output light emitting diode features a tuned chrome reflector to not only maximize light output but also focus the light exactly where you need it.
The high quality 6063 extruded aluminum housings use an anodized polyester powdercoat finish and contain an integrated heat sink that ensures consistent, long lasting performance.
Everything needed for installation is included with the Pro Comp Explorer Double Row LED light bars, from the mounts to the wiring harness complete with relay, quick connector, and illuminated switch.
CONTACT: Pro Comp; 310-900-3841