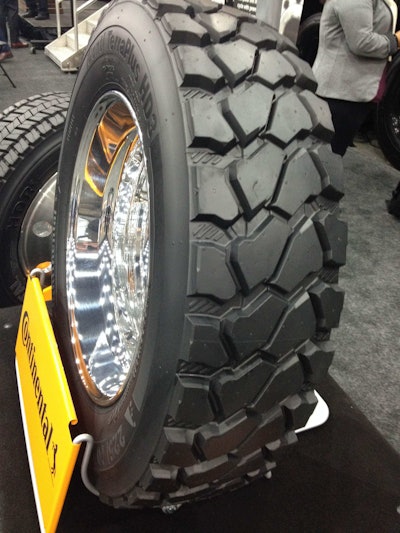 Offering a glimpse into the next decade of transportation in North America, Continental's Executive Vice President for Truck Tires in the Americas, Paul Williams, unveiled three new truck tires designed to fit applications that are expected to grow in prominence through 2025, in addition to new city-bus and long-haul coach tires intended to respond to growing urbanization.
Construction, in particular, "is coming back now in all regions," Williams said. The U.S. budget proposal for 2015 proposes to "spend more on construction" – highways, ports – "over the next four years." The company has introduced a "brand-new aggressive-traction tire for the first time in the 19.5-inch size, in which Continental is well-known. Previewed at the NTEA Work Truck Show earlier in March, the new Conti TerraPlus HD3 "will enable our fleets to get out there and reach every part of the construction site," Williams added. The off-road drive tire fills the high-traction needs of construction vehicles, work trucks and heavy commercial pickups.
It will be available later this spring in the 225/70R19.5 size, with an open shoulder and 19/32nds tread depth. 
With environmental concerns continuing to dominate business and government policy discussions in the U.S. and around the world, Williams noted, exceeding SmartWay-recommended ratings for rolling resistance overall fuel efficiency, not to mention sustainable manufacturing practices with recycled rubber and research into new rubber sources, will continue to be a focus of its tire design.
As such, the company has rounded out its next generation of long-haul, low-rolling-resistance EcoPlus truck tires by adding a new steer and all-position tire. The Conti EcoPlus HS3 offers a 10 percent reduction in rolling resistance as well as a 12 percent increase in mileage over the previous generation of long-haul steer tire. It will come to market in early summer in size 295/75R22.5, load range H construction with 19/32nds of tread depth.