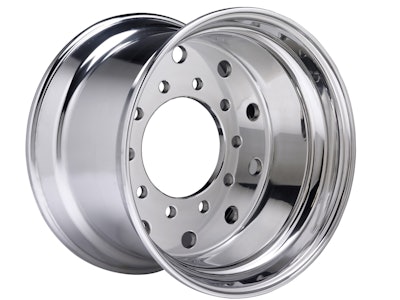 Accuride introduced Sunday two new 22.5-in. x 14-in. Accu-Lite Duplex aluminum wheels that the company says are four pounds lighter than the previous models they replace.
"When it comes to giving fleets the ideal solution for their application, Accuride is the only wheel manufacturer capable of offering alternatives in either steel or aluminum," Rick Dauch, Accuride President and CEO, said at the product's unveiling Sunday at the Technology & Maintenance Council (TMC) annual meeting in Nashville. "Along with our advanced new Steel Armor coating for steel wheels, these new Accu-Lite Duplex aluminum wheels give fleets even more ways to save money by lowering total tractor-trailer weight, boosting fuel economy and payload, trimming maintenance costs and a host of related benefits. It comes down to our commitment to deliver value and reliability for our customers."
Accuride's new Duplex wheels – identified with part numbers 41142 and 41140 – will be the lightest-weight 22.5-in. x 14-in. Duplex aluminum wheels on the market today and replace previous part numbers 41660 and 41016, respectively. The new aluminum wheels are expected to be transitioned into the market in the second quarter, Accuride says.