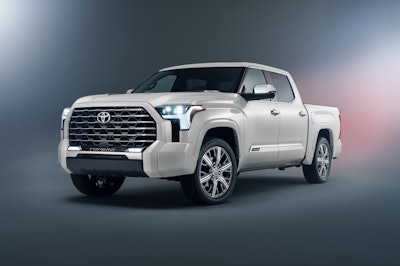 Toyota
As high prices at the pump continue to create concerns for fleets and consumers alike, demand for pickups is waning as buying preferences shift towards fuel conscious models like midsize and compact trucks.
However, falling demand for these workhorses looks to be having a positive impact on new and used pickup prices.
"Categorically, the pickup truck segment had the lowest price increase of all vehicle segments in March of 2022," iSeeCars Executive Analyst Karl Brauer said. "We are seeing prices come down for used pickup trucks, and there are even incentives on new pickup trucks, which are hard to come by in the current market. For example, you can get $1,500 for certain conifigurations of the new 2022 GMC Sierra 1500."
When it comes to full-size pickups, the 2022 Toyota Tundra is the only one in its segment to have enjoyed a year-over-year sales increase for the first quarter of 2022 which Brauer explained is probably owed to fuel economy gains with the truck's all-new powertrains. The non-hybrid 2022 Tundra is rated at 18 MPG city/24 MPG highway while the hybrid offers 20 MPG city/24 MPG highway.
"With the exception of the Tundra, the fastest-selling new pickups are all compact and midsized," Brauer said. "The Tundra also gets better gas mileage than most of its V8 counterparts, so we are seeing that demand is higher for more efficient trucks.
"There's always going to be demand for full-size pickups from people who need them for work purposes, but buyers are likely rethinking full-size pickups as family vehicles given the current gas prices," Brauer continued. "The new-for-2022 Toyota Tundra was the only full-size pickup truck to have a sales increase in the first quarter of 2022 compared to 2021, which shows that demand remains high for this model."
Only three pickups made iSeeCars list for Top 20 Fastest-Selling New Vehicles in March 2022. The Ford Maverick hybrid claimed the 7th spot, Toyota Tacoma 9th place and Toyota Tundra 16th. No pickups made iSeeCars' Top 20 list for the fastest-selling used vehicles in March.