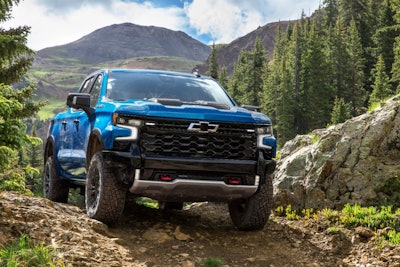 Chevrolet
An ongoing microchip shortage led GM to shut down full-size pickup production this week and the week following at its factory in Ft. Wayne, Indiana.
The lengthy pause on Chevy Silverado and GMC Sierra manufacturing in the Hoosier State started Monday and will continue through April 15.
Though Chevy anticipates a new approach to high-tech auto manufacturing will eventually restore supply chain resiliency, in the meantime current chip production avenues are expected to continue to hamper vehicle production.
"We're not through this," GM President Mark Reuss told CNBC. "We're doing the best we can."
While demand for microchips will increase at GM as the automaker pivots to more chip-hungry all-electric vehicles, the company's overall outlook on the market is optimistic.
"We see our semiconductor requirements more than doubling over the next several years as vehicles become technology platforms," GM said in a statement to Hard Working Trucks. "However, GM's new strategy will reduce the number of unique micro controller units (MCUs) required by 95 percent to industry-leading levels, which will help drive quality and greater predictability and resiliency throughout the supply chain.
"We estimate one new microprocessor family alone could account for more than 10 million units annually," GM's statement continued. "We expect much of the investment needed will flow to the U.S. and Canada. The three core microcontrollers are designed to provide more than 7 years of platform stability, unlocking software developers to focus on creation of high value customer facing feature content."
In the midst of the chip shortage, GM production in North America has actually been rising each quarter since September 30, 2021. However, because of the chip shortage, dealers across the country still have far fewer vehicles than they did before the pandemic.
"GM expects inventory to remain relatively low throughout the year due to high demand," a spokesperson said.