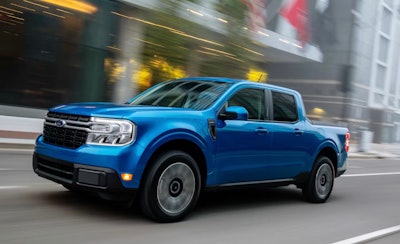 Ford
With fuel prices soaring and a chip shortage still holding back vehicle production, both hybrid and gas versions of the Ford Maverick pickup have seen their sticker prices soar.
A recent study from iSeeCars of 1.2 million new car listings shows a 9.9% average uptick in MSRP for a new vehicle. Some vehicles have soared well above that including Ford's popular Maverick.
The hybrid version is pricing 25% higher on average at dealer lots which translates to an extra cost of $5,601. Only the Jeep Wrangler has a higher mark-up at 26.7% or $8,925 above MSRP.
[Related: Ford Maverick gets lifted]
The gasoline version of the Ford Maverick takes sixth place on the list with an uptick of 22.2%, or $5,368 above MSRP. Maverick was the only truck to make the list of 15 vehicles pricing out well above sticker.
"Dealers have responded to market conditions by pricing cars above MSRP to make a higher profit on specific models and to help offset lower sales volumes due to restricted new car production," said iSeeCars Executive Analyst Karl Brauer. "In today's market, consumers are willing to pay well-above sticker price for the most in-demand vehicles because it's the only way they can get the vehicle of their choice and avoid a lengthy wait."
With Maverick easily claiming top market share in the revived compact pickup segment—the competing Hyundai Santa Cruz didn't make iSeeCars list—dealers put the brakes on ordering and increased the price.
"The Maverick compact pickup has been in high demand since its debut, which forced dealers to stop taking orders for both versions at the end of January and not resume until summer," said Brauer. "Heightened gas prices have boosted demand for this already hot seller, with both the hybrid and gasoline versions returning excellent gas mileage, and even these marked-up pickups remain attainable for buyers given their starting prices of around $20,000."
Overall, Ford had more vehicles on the iSeeCar's list of marked-up cars than any other OEM. Bronco came in 8th place with a 20.6% jump over MSRP while Mustang claimed the 12th spot with a 19.1% increase.
Ford issued the following statement in response to dealer price hikes:
"Dealers are independent franchises and ultimately the final price a customer will pay for any vehicle is agreed between themselves and a dealer that's at, below or above MSRP. We also encourage our customers to order a new vehicle and agree to a price in advance in writing with their dealer."