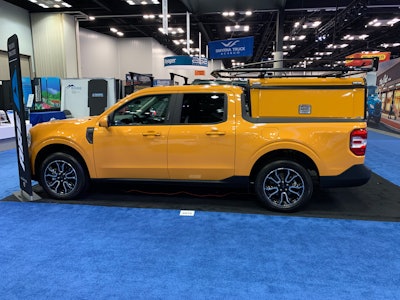 Tom Quimby
It was bound to happen sooner or later.
Ford's hot-selling compact pickup, the 2022 Maverick, can now be paired up with an ARE work truck cap and Kargomaster roof rack. Both ARE and Kargomaster are popular Truck Hero brands.
The DCU Max cap you see in the photo above is topped with a Holman Kargomaster roof rack and was displayed recently at The Work Truck Show in Indianapolis.
[Related: More ARE accessories for Ford Maverick at 2023 Work Truck Show]
Special thanks to Maverick Truck Club for allowing us to post their photos shown below which were shot last month at the Great American Outdoor Show in Harrisburg, Penn. Though it's the same cap, it's not shown with the Kargomaster rack.
The Maverick at The Work Truck Show was locked up tight since most everyone was attending the annual NTEA breakfast save for a few media folks interested in getting crowd-free shots and video on the floor.
While the DCU Max for Maverick is not currently posted on ARE's website, they assured us that it is now available for purchase. Check out the features they provided below:
DCU Max for '22-up Ford Maverick
Product Highlights:
100% welded tubular aluminum inner frame.
Covered with durable .063 aluminum skin.
Double Full Rear Doors w/ Stainless Steel hinges. These doors replace the truck's tailgate for easier access and loading.
Over 200 options available to customize to your specific needs.
Roller Rods on the DCU Max's doors for one-handed easy operation, and improved water management.
Junction boxes for improved wiring.
Popular Options:
OEM Basecoat/Clearcoat Paint-To-Match the truck.
Ladder Rack – Holman Kargomaster roof rack.
Keyless entry that ties into the truck's OE key fob
Interior & Exterior Rival by A.R.E. LED Lighting for improved views and safety.
Toolboxes behind the side doors (several shelving options available)
Backup Camera
Slick Lock Puck Style Lock for additional jobsite security.