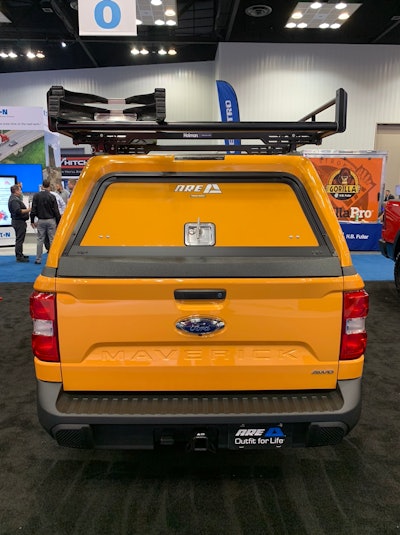 Tom Quimby
A.R.E. surprised plenty of Ford Maverick fans last year when they rolled out their DCU Max on the small pickup at The Work Truck Show in Indianapolis.
At this year's show, they intro'd another cap and tonneau for the popular truck: the MX Series cap and Fusion tonneau. Also on display for Maverick was the BedRug truck bed liner and Holman Cargo Rack with ladder clamp.
In the video above, Todd Schroeder, A.R.E.'s director of customer support and accessory categories, walks us through all those A.R.E. offerings for Maverick and provides plenty of details along the way. For instance, look for a cab high MX Series cap "very soon," Schroeder says.
Please note that while the Fusion tonneau is shown on a Ram 1500, Schroeder confirmed that it is available for Maverick. A trip to A.R.E.'s website revealed that other accessories available for the 2023 Maverick include the V-Series cap, Diamond Edition DCU cap and Toolmaster cap.
Contents of this video
00:00 - ARE MX truck cap overview
01:41 - Holman cargo rack
02:06 - What truck taps are available for the Maverick?
02:28 - Fusion tonneau cover overview
Video transcript
Todd Schroeder
Hello, I'm Todd Schroeder with ARE and I'm going to show you our current Maverick cover, our MX. Our MX version is above cab high. This version has our side doors with our T handles. We have our roller rods with our roller wheels that pulls it in. We've got our basic toolbox. We do not have any dividers in this unit. We have several options, 12 options, so set it up however you need it inside the unit. Turn latch down. Again, an e lock version that is electronic that works with your key fob is available to this. If you want to come to round to the backside, you can see how our toolbox are hang.
On this version we currently have a front picture window. We have a picture window, a vented window, and a dropdown vented window if you'd like, allows access to the back window of your truck onto the bulkhead. You can see on the inside the insert skirt of that aluminum panel door. On that inside there we've got our wonderful BedRug that lays out of the inside, covers the tailgate.The BedRus is made of a material that you can wash out, pull the unit out, pressure wash it. It doesn't get moldy or mildewey. A great accessory for any truck.
And then we have our back door, which is again aluminum panel, same rotational lock, same heavy duty security. On that opens up with our integrated contour strip. Clean finish look, great design. This is our other door panel. We can get in dual handle window, so you don't have that T handle style that turns. You have this style. This is our basic window, so you can have either or on what we showed you.
On this unit as well we have our home in cargo rack that's landed on the top. We've got our rack strips on the top. It does bolt into the T channel. It does lay over the cabin on the Maverick light duty as far as the ability to not overweight the top of your truck. They also have the tie in ladder clamp. Push up, latches in, you're done. Ladder's not going anywhere. Availability for the cap here, the MX is in production. Currently, you can get it with any of the build up models that we discussed.
Tom Quimby
So tell us about the other options as far as covers, caps for the Maverick.
Todd Schroeder
For the Maverick, we have our DCU. DCU Max is currently available and then we will have our cab-high version of this as well. So that cab-high version will sit right about here and that'll be coming out very soon.
So what we have here is our color matched Fusion cover. It does fold up in and onto itself. We have this partnered currently with our back rack product. It does fold up to the back of the back rack. Secure lockability. There is no lock on the top, but it is latched in and when the gate closes, you can't get to it. Our Fusion cover is out there right now. You can go to any ARE dealer and reach out and they will help you with getting that fusion cover taken care of.