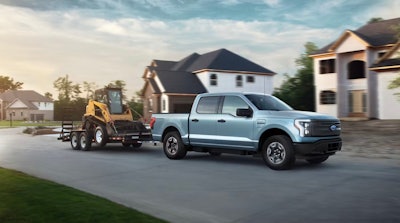 Ford
Think your pickup or van is a getting pretty good mpg? Think again. If it's not getting nearly 50mpg in a few years, it'll be considered an energy hog thanks to an executive order from President Joe Biden.
NHTSA announced this week that in keeping with Biden's energy directive in Executive Order 13990 it's amended corporate average fuel economy (CAFE) standards for passenger cars and light trucks (think light duty vehicles) which calls for an 8% fuel economy uptick per year for 2024-2025 models and a 10% bump per year for 2026 models.
What does that all add up to?
"Recognizing that many readers think about CAFE standards in terms of the miles per gallon (mpg) values that the standards are projected to eventually require, NHTSA currently projects that the standards will require, on an average industry fleet-wide basis, roughly 49 mpg in MY 2026," NHTSA writes in its Final Rule on CAFE standards posted this week on the federal register.
Thanfully, there's some consolation in knowing that NHTSA accounts for real-world driving which doesn't always live up to expectations created in labs and computer models.
"NHTSA notes both that real-world fuel economy is generally 20-30 percent lower than the estimated required CAFE level stated above, and also that the actual CAFE standards are the footprint target curves for passenger cars and light trucks, meaning that ultimate fleet-wide levels will vary depending on the mix of vehicles that industry produces for sale in those model years," the agency adds.
The only pickups that can currently meet the latest CAFE standards are all-electric models like the 2022 Rivian R1T and 2022 Ford F-150 Lightning. The R1T is rated at 70 MPGe while Lightning comes in at 68 MPGe.
"While NHTSA does not consider the fuel economy of electric vehicles in setting CAFE standards, consistent with Congress' direction in 49 U.S.C. 32902(h), using electric vehicles to meet the standards is a compliance option that many automakers are pursuing," NHTSA's report continues.
According to NHTSA's website, CAFE standards apply only to new vehicles.
"NHTSA's Corporate Average Fuel Economy (CAFE) standards regulate how far our vehicles must travel on a gallon of fuel," the agency reports. "NHTSA sets CAFE standards for passenger cars and for light trucks (collectively, light-duty vehicles), and separately sets fuel consumption standards for medium- and heavy-duty trucks and engines."