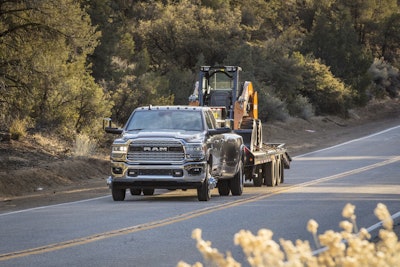 Ram
Two separate defects on late model diesel Ram trucks have led to a manufacturer's recall and an investigation by the National Highway Traffic Safety Administration that includes over 735,000 trucks.
Reports of fuel pump failures in certain 2019-2020 Ram 2500, 3500, 4500 and 5500 heavy duty pickups and chassis cabs equipped with 6.7-liter Cummins engine led NHTSA to launch an investigation that impacts an estimated 604,651 trucks.
NHTSA's Office of Defects Investigation reports that their review stems from "22 complaints and 2 field reports alleging incidents of stall/loss of motive power as a result of high pressure fuel pump failures." No vehicle crashes or injuries are listed in ODI's report.
"An ODI review of the complaints found that most stall/loss of motive power incident allegations occurred at speeds above 25 MPH and resulted in permanent disablement of the vehicle," ODI states in its investigation summary.
A class-action lawsuit filed Friday by the Hagens Berman law firm alleges that the trucks pose an "imminent safety risk to the public" given the risk of engine stalling. The suit was filed against Fiat Chrysler (FCA) and Cummins on behalf of 600,000 owners and lessors of 2018-2020 Ram diesel trucks equipped with "a defective CP4 fuel injection pump." Bosch CP4 fuel injection pump failures in diesel-equipped Chevy and Ford trucks prompted earlier class-action lawsuits also led by Hagens Berman.
Meanwhile, a separate defect on 2021 and 2022 Ram Heavy Duty pickups and Ram chassis cab trucks equipped with a 6.7-liter Cummins diesel engine led the manufacturer to recall roughly 131,177 trucks in the U.S., 6,769 vehicles in Canada and 3,097 outside North America over concerns of a faulty heater relay that may pose a fire risk.
This is the second recall Ram's parent company Stellantis has issued for the relay. The latest recall includes vehicles that were recalled previously.
"An internal investigation discovered the intake heater-grid relays on certain vehicles may exhibit overheating," Stellantis reports in a statement issued Friday. "In rare instances, this condition may pose a fire risk."
Though Stellantis reports that the risk of fire is minimal, they advise "customers whose vehicles are equipped with the affected engine, and produced between Aug. 2 of last year and Oct. 9 of 2021, not to park their vehicles indoors."
The defect has led to "a single potential warranty claim," according to Stellantis, "but no related injuries or accidents."
Customers will receive a repair notice before Dec. 3 according to Stellantis. Additional questions and concerns can be directed to the OEM's recall center at 1-800-853-1403.