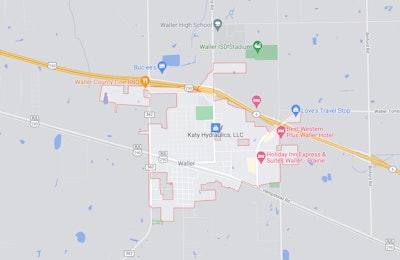 Google Maps
A teen driver in Texas was accused of running over cyclists while allegedly attempting to roll coal on the Ironman hopefuls.
Four of the six cyclists struck by the Ford F-250 on Saturday in Waller were taken to area hospitals, two by helicopter.
"I thought someone was dead," Chase Ferrell told Fox26houston.com. "I heard a lot of crunching. I heard brakes. Tires screeching. People screaming."
[Related: Diesel Brothers say rolling coal 'is stupid']
Ferrell said prior to the crash, the pickup had spewed diesel smoke on him and other cyclists riding along Highway 290 near Houston in preparation for Ironman Texas.
Ferrell said he watched the truck then speed up and collide with other cyclists riding ahead.
"The reason he couldn't stop is because he was accelerating to blow more diesel fuel on these cyclists," Ferrell said. "He ended up hitting 3 people before his brakes even started."
The 16-year-old driver who remained at the scene after striking the cyclists was not arrested. As criticism mounts on social media regarding how law enforcement is handling the case, Waller police released the following statement on Facebook Tuesday:
The Waller Police Department is currently investigating an incident that occurred on Saturday, September 25th, 2021. The incident occurred at approximately 11:30 a.m. in the 41800 block of Business 290, near Waller, Texas and involved several cyclists being struck by a pick-up truck while traveling East bound. Three of the riders sustained significant injuries and were subsequently transported to nearby hospitals for treatment. Other riders sustained minor injuries and were treated by Emergency Medical Services on scene. Several area law enforcement agencies responded to assist with the incident.Waller Police Department is continuing their investigation and upon completion, will submit all information and generated reports to the Waller County District Attorney's Office for review. After examining the facts of the incident, the District Attorney's Office will determine what criminal charges may be warranted. Anyone who may have witnessed the incident, or who possesses relevant information regarding this event, should contact the Waller Police Department at 936-372-2525.
The teen was later questioned and released by Waller police without charges. The teen's attorney, Houston-based Rick DeToto, told the Houston Chronicle that his client is a "very new and inexperienced driver" with "college aspirations."
"This was a serious accident but did not involve any criminal intent," DeToto continued. "He immediately called 911, helped with the injured and cooperated with police. The family prays for the speedy recovery of the riders involved and we look forward to cooperating with investigators."
Confusion over law enforcement jurisdiction led the Waller County Sheriff's Office to post on their Facebook page that Waller police would be handling the investigation "due to the incident occurring in the city limits." However, as noted above, Waller police report that the incident occurred near Waller. According to Fox26, the pickup collided with cyclists two miles west of the city.
Cyclists in Waller County have met tragedy before. According to the Houston Chronicle, a man was found guilty of capital murder after a court ruled that he had intentionally rammed his vehicle into a group of cyclists killing two in 2017. Residents have complained that groups of cyclists crowd the road and make it difficult for driving.