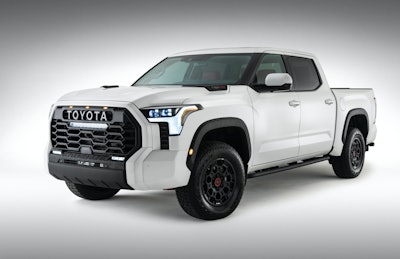 Toyota
Is the 2022 Toyota Tundra a ½-ton super truck like the 2021 Ford F-150 Raptor and 2021 Ram TRX?
That question will be put to the test next week at a media drive event being hosted by the OEM in Texas.
In the meantime, an interesting difference between the trucks has come to light and that is Tundra's grounding status. In short, it's not intended to get airborne.
"We do not condone getting all four tires off the ground, so the short answer is 'no,'" Toyota spokesman Josh Burns told Hard Working Trucks. "We didn't design the truck for jumping. It's designed for demanding off-road performance and a great on-road ride."
[Related: 2022 Toyota Tundra revealed]
It's no secret that the Raptor and TRX were designed to get airborne. In that super truck vein, the latest Tundra is also an over-sized, powerful half-ton with beefy suspension. Just don't jump it. But does an airborne truck really make it a super truck?
The thoroughly redesigned Tundra may best the Raptor on road thanks to a hybrid 3.5-liter V6 that offers 437 horses and 583 lb.-ft. torque. The 2021 Raptor edges out the Tundra with 450 horses but falls short on torque with 510 lb.-ft. and as everybody knows torque is the name of the game when it comes to getting more powerful off-the-line starts.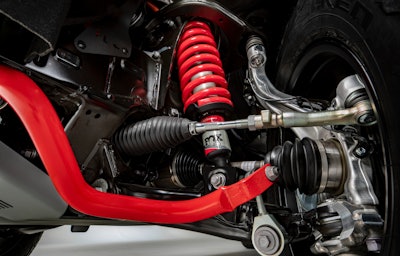 With 702 horsepower and enough suspension to seemingly support a tank, the Ram TRX will eat up both the Tundra and Raptor on street and off—unless we're talking about towing. That's where the 2022 Tundra dominates both with 12,000 lbs. max towing compared to the TRX at 8,100 lbs. and Raptor at 8,200 lbs.
So it's a bit of the tortoise and the hare going on here. The hybrid Tundra will leave the TRX and Raptor behind when doing what trucks were originally designed to do—work, work and work some more. But the Tundra tow beast is also designed for serious off-road play.
"I cannot comment on another manufacturer's product, but we absolutely believe the Tundra TRD Pro is competitive in the off-road-focused truck segment," Burns said. "It is our flagship off-roader and it builds upon the previous generation with new-to-Tundra features such as Crawl Control, Multi-Terrain Select, a locking rear differential, Fox internal bypass shocks and a 1.1-inch standard front lift, to name a few."
The interesting thing here is that Toyota doesn't obsess with keeping up with the competition. It's a point that Tundra chief engineer Mike Sweers made recently while talking with TFLtalk.
"I'm not after numbers. I'm after capability," Sweers said.
Bush also walks that line though he did hint at additional capability that will be available with the 2022 Tundra.
"I wouldn't say we designed TRD Pro to compete directly with any another manufacturer, and I think it's a bit of a different buyer between the two in some regards," Bush said. "We will have a healthy offering of accessories available for the new Tundra, so we'll have options if buyers want to make modifications to their suspension and performance."
For those of us stat hungry types, those are fightin' words. Excited to see what Toyota has in store next for its customers and the competition.