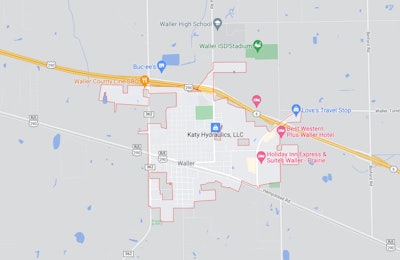 Google Maps
Police report that the Texas teen who recently ran over several cyclists near Houston had been reaching for his cell phone while rolling coal on the Ironman hopefuls just before colliding with them.
The 16-year-old driver behind the wheel of the Ford Super Duty pickup was not charged in the highly publicized Sept. 25 incident which caused a wave of criticism and led to the appointment of a special prosecutor.
Six cyclists were hospitalized, two by airlift after the driver intentionally emitted exhaust on the cyclists just prior to striking them, witnesses told police. The cyclists had been part of a larger group training for Ironman Texas.
A Houston attorney representing the teen said that his client's actions had not warranted criminal charges.
"The police did an investigation at the scene," Rick DeToto told click2houston.com. "This included speaking with eyewitnesses to the accident. After their investigation, they decided not to charge my client and did not even issue him a traffic ticket. Clearly, they determined a crime had not occurred. My client stopped immediately, called 911, attempted to render aid and cooperated with police."
In an another statement to the Houston Chronicle, DeToto said his client was a "very new and inexperienced driver" with "college aspirations."
The District Attorney of Waller County posted comments on Facebook that denounce rolling coal and appear to hint at possible charges for the teen.
Thank you for all the posts regarding the bicyclists that were run over on Saturday morning. Your comments (even the less than flattering ones) have been instructive to this office on how prevalent the problem of "rolling coal" is not only in Waller County, but across the nation.
Rolling coal when a person is in the vicinity and when the individual rolling coal intentionally or knowingly causes that excess exhaust to contact that bystander is AT A MINIMUM an assault. They are causing their vehicle to "spit" on a living, breathing, human being that is worthy of dignity and not having his or her person violated. That simple assault is easily elevated to a jail eligible offense if bodily injury occurs, which can be caused by entry of toxic particles into mouth, nose and eyes.
Waller County law enforcement agencies all across the county are being reminded today of the availability of these and other charges which can be brought against individuals acting in such a criminal manner. The underlying investigation and gathering of evidence by Waller P.D. is still progressing. Thank you for your input and the positive exchanges we have seen to educate those who are ignorant of this commonplace occurrence.