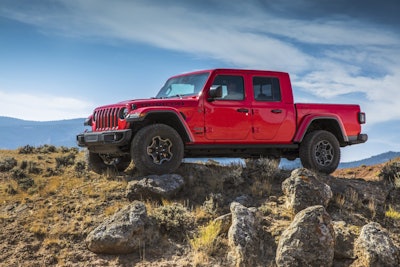 Jeep
Family photos are a big thing. Find yourself missing from one and it might sound off a few alarms.
Case in point: Gladiator was strangely absent from a recent webinar discussing Jeep's current hybrid and future all-electric line-up. Why?
Jeep certainly didn't have much to say on the exclusion which occurred during parent company Stellantis' EV Day on July 8.
"Beyond what Jeep Brand CEO Christian Meunier shared during Stellantis EV Day, we have no further comment at this time," a Jeep representative said.
Meunier didn't mention Gladiator while talking about the brand's current 4XE offering, a plug-in hybrid, or when discussing Jeep's all-electric future.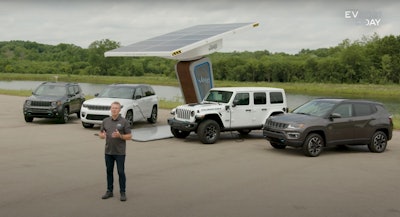 A screenshot shown on the right shows Meunier standing next to familiar Jeep vehicles none of which is a Gladiator.
[Related: 1,000 hp Jeep Gladiator plays in the dirt]
"Starting in 2025, we will have a zero emission Jeep 4XE in every SUV segment," Meunier said during the webinar.
SUVs are one thing. What about trucks? Again, no mention of Gladiator.
So, is this a sign of Gladiator's demise? What's Jeep's current outlook on the midsize pickup? Is it the brand's next legacy ride like Wagoneer and Wrangler? Or is it headed for an early retirement? Jeep won't say. They did, however, point to a recent Q2 sales report.
"In Q2 of 2021, Gladiator posted its best quarter ever for U.S. retail sales, as well as U.S. total sales with 29,962 vehicles," the Jeep spokesman added.
That's a 53% uptick from Q2 2020 but still a far cry from Wagoneer at 69,020 sales for Q2 2021 and Grand Cherokee at 52,726.
One of Gladiator's midsize competitors, the Ford Ranger, enjoyed 34,205 sales for Q2 2021, a 13% sales jump over the Jeep truck. But all told, Ranger hasn't exactly been racking up the numbers Ford has been hoping for since its 2019 model year roll out.
The redesigned 2021 Honda Ridgeline also poses a threat with a 68% year-over-over climb for combined Q1 and Q2 2021 sales at 24,370 units (12,570 for Q1 and 11,800 for Q2). Then there's the midsize dominator, Tacoma, followed by the Chevy Colorado and GMC Canyon. This is a crowded segment which recently got even tougher, more or less.
Though it may lack Gladiator's off-road muscle, Ford's new compact hybrid Maverick pickup is roughly the same size of the 2011 model year and below Ranger, and with a starting price under $20K, it's safe to say that it's going to attract buyers considering midsize trucks.
Available with a 3.0-liter diesel, a five-speed manual, removable doors and hardtops, Gladiator appears to have something for everyone, but does it have enough? Apparently not enough to warrant a mention or be included in the family photo during Stellantis EV Day.