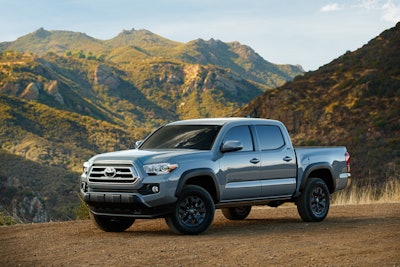 Toyota
It's lonely at the top—or at least in the Top 10.
The Toyota Tacoma is the only pickup on a recent iSeeCars Top 10 list for the fastest selling used and new vehicles for May.
Toyota's midsize truck ranked number seven out of ten of the fastest-selling new vehicles last month, taking an average of 12.2 days to sell. How about the fastest-selling used vehicles? Sorry, no trucks ranked on that Top 10 list.
But that doesn't mean it's all bad news for pickups.
"Two additional pickup trucks, the Toyota Tundra and the GMC Canyon made the top 20, while most trucks sold faster than the average vehicle," said iSeeCars Executive Analyst Karl Brauer.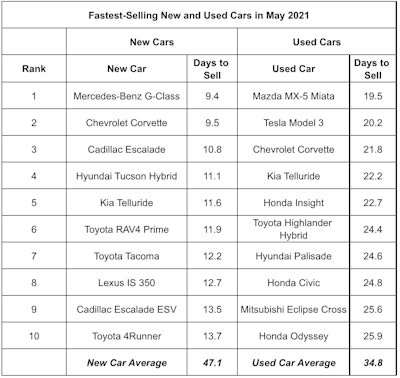 "The trucks that sold slower than average include the Nissan Titan, the Ram Pickup 1500 Classic, Jeep Gladiator and the Ford F-150."
[Related: Used truck prices hit record high with Ram 1500 leading the way]
The Nissan Titan is listed as the slowest selling truck in May, taking an average of 68 days, followed by the Ram 1500 Classic at 60 days; the Nissan Frontier at 59; Jeep Gladiator at 55; and the Ford F-150 at 51 days.
OEMs have been working to adapt to challenging conditions which includes a microchip shortage brought on by the Covid-19 pandemic.
"American manufacturers have been able to prioritize production of pickups during plant shutdowns for full-size trucks, which suggests why they aren't in the top 10," Brauer said.
"However, their selling time relative to the average vehicle suggests that trucks are still in demand, but there's enough inventory to meet demand," Brauer continued. "For example, the Chevrolet Silverado 1500 is selling in 23 days, and the GMC Sierra 1500 is selling in 23.3 days. However, the F-150's above-average selling time may change next month as Ford had to shut down production at the end of May."
When might elevated prices on used vehicles be coming down?
"It's expected that new car inventory will begin to stabilize in the fall, and the used car marketplace is usually a couple of months behind the new car market," Brauer said. "I think it will be close to end of the year or early 2022 when we see used car prices back to normal levels."