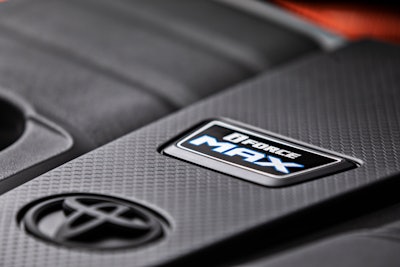 Toyota
Another hybrid pickup could be rolling out to dealers, and this time, it could be a Toyota.
The world's largest manufacturer of hybrid vehicles released a photo today of a new powertrain that will be available in its 2022 Toyota Tundra.
The image, shown above, doesn't seem to reveal much, but take a closer look at the back of the engine and you'll see what might be an orange cable which could be indicative of a high-voltage line—the very kind found on hybrid engines.
Another clue is Toyota's press release title: iForce MAX: New Powertrain leads 2022 Toyota Tundra.
It's not just a new engine they're teasing, but a new powertrain which typically includes the engine, transmission, axle and other supporting components that turn the wheels—the whole package, which a hybrid powertrain would definitely deliver in this case.
Another clue—beyond Toyota's dominance in all things hybrid—is a comment made by Bob Carter, executive vice president of sales for Toyota North America who recently told MotorTrend that the optional powertrain on the revamped Tundra uses new technology "that will blow you away."
The base powertrain, Carter added, "is substantially more powerful in terms of horsepower and torque than the current V8," which adds up to 381 horsepower and 401 lb.-ft. torque. Toyota could very well lean on a smaller and lighter V6 to deliver more power and torque than its long-standing V8. Ford certainly did.
Toyota's prior teaser of its next gen Tundra was also intriguing. A prominent, well-lit front grille makes the truck look like a serious competitor with wide-body marker lights and plenty of lights for the road ahead which may quell critics that have complained about lack-luster headlight performance in the current design.
Finally, a hybrid Tundra makes sense given the current model's abysmal fuel economy (13mpg city, 17 highway) with the respectable, but thirsty 5.7-liter V8. A hybrid would not only deliver a substantial, mea culpa improvement in mpg, but also cut emissions, which with carbon scoring and green-shaming capturing more headlines, can prove more attractive to fleets and consumers in general.
And on the topic of those marker lights…Toyota's no stranger to off-road racing so it wouldn't be surprising to see a bigger and stronger Tundra ready to take on the F-150 Raptor. A Ram TRX slayer? Doubtful. That truck's in a class by itself until Ford cranks out the 2022 F-150 Raptor R which is expected to thunder past TRX's amazing herd of 702 horses.