In the alternative fuel space, most of us have a good understanding of the benefits of propane autogas—clean, reliable, readily available, and affordable—but there's a new fuel hitting the scene that's worth exploring: renewable propane.
Made available to the public just a few years ago, renewable propane is quickly gaining global and national interest. Last year only about four to five million gallons of renewable propane were sold in the U.S., but according to the National Renewable Energy Laboratory, potential demand for renewable propane in California alone could surpass 200 million gallons by 2030.
As the pain at the pump continues, and alternative fuel incentive programs abound, it's worth exploring the characteristics of renewable propane and considering its potential impact on the future of our businesses.
Here, I'll cover a little bit of everything about renewable propane that will hopefully prove helpful in understanding where the market is heading.
What Is renewable propane?
Renewable propane (also known as biopropane) is a non-fossil fuel produced from 100% raw, sustainable materials. It's commonly produced from feedstock like animal fat, wood waste and cooking oil. It can be also a byproduct of renewable diesel and sustainable aviation fuel production. Conventional propane, on the other hand, is a byproduct of natural gas and petroleum processing, and in some cases, oil refining.
Renewable propane's chemical structure and physical properties are the same as propane (C3H8).
Seamless adoption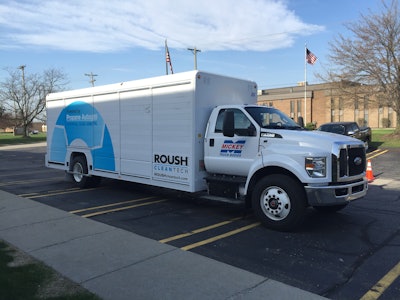 Because renewable propane and conventional propane are exactly the same in chemical structure, renewable propane can be used for all the same fleet vehicle applications. This means no new infrastructure or engines are needed if your fleet is already using propane vehicles. And, with the ability to blend conventional propane with renewable propane, the transition could be seamless for commercial fleets.
Ultra-clean
Renewable propane is one of the cleanest alternative fuels on the market. Its carbon intensity value is four times lower than conventional propane and five times lower than diesel. At the point of combustion, renewable propane is carbon neutral, meaning no new carbon is added to the atmosphere when renewable propane is burned. For fleet operators who have emissions mandates, this cannot be overlooked.
For reference, renewable propane made from used cooking oil has an average carbon intensity score of anywhere between 20.5-30. By comparison, conventional propane has a carbon intensity of 83, diesel 95 and gasoline 96.
Pioneers In the Market
As the alternative fuel market continues to evolve and make huge technological advances, industry stalwarts are seizing the moment with renewable propane.
Renewable propane supply is increasing due to substantial investments by industry leaders like AmeriGas Propane. Recently, AmeriGas partnered with Global Clean Energy Holdings to produce and distribute millions of gallons of renewable propane annually beginning this year. There are also several renewable propane refiners in operation including Louisiana's REG Geismar and AltAir Fuels in California.
To drill down a bit more, U-Haul purchased its first million gallons of renewable propane in 2020 and in 2021 added another million gallons to sell. Even government entities like the Commonwealth of Virginia are purchasing renewable propane to fuel policy vehicles and buses.
Renewable propane has all of the benefits of conventional propane — clean, reliable, powerful, affordable — but one of the most promising features of renewable propane is that all of it can be made right here in America using easy-to-find resources. This makes it abundant. And, since it isn't made from fossil fuels, the use of renewable propane solves a variety of environmental and geopolitical problems for our economy.
If you're interested in doing more research on renewable propane, I recommend this video by the Propane Education & Research Council and also checking out the following websites: ROUSH CleanTech, Renewable Propane Alliance and Propane Education & Research Council.