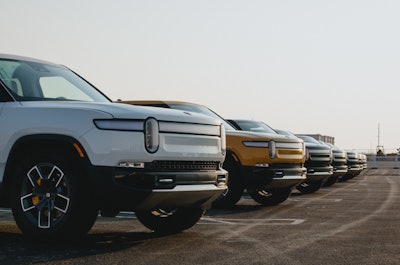 Rivian
What goes up, must come down…eventually.
I said that for years before towering heritage oaks older than the country itself fell and crushed our home during Hurricane Michael in 2018.
The same applies to stock prices too—eventually—as various factors converge and whip up a whirlwind that can bend or take down even the most stout performers.
This week, it's Rivian that's getting blown around as the manufacturer falls behind on delivering its all-electric R1T pickup and deals with first-gen issues on trucks that have already hit the road.
It's a tough time to roll out a new vehicle amid a historic supply chain crisis, pandemic and rising inflation not seen in 40 years. It's even tougher when your chief operating officer resigns, as was the case for Rivian this week.
Nourished by endless praise that turned out to be not so firmly rooted, Rivian's stock value as of Wednesday has fallen 67% from a $172 high reached just a few days after its Wall Street debut in November.
Disappointing, but not surprising. Shining in the sun with a largely unproven electric pickup, the R1T grew and grew amid an endless flow of accolades promising plenty for everyone. The zero-emission pickup eventually reeled in Motor Trend who, following several outings, made Rivian's very first EV its Truck of the Year.
But would all that dating extend into something more stable, long-term and productive? After all, some dates are the whole package. Some aren't.
I flipped through MT's story eager to learn of the pickup's towing and hauling capabilities and was disappointed to learn that the truck largely won on the basis of being more of a high-tech show horse than a workhorse.
For all of its creature comforts and impressive technology, I've yet to really learn how well the R1T really handles under pressure—like say when I need to haul some firewood or tow the Kubota as the temperature drops or rises.
And it's that last factor concerning ambient temperature that's really the most important. When I interviewed Rivian CEO RJ Scaringe at the L.A. Auto Show shortly after he unveiled the R1T and R1S, I absolutely had to ask him about battery pack performance in extreme weather. Though the R1T and R1S are not intended to be sold as fleet models, Rivian is using that same skateboard chassis to produce its commercial vans. It's a smart idea that can help lower production costs and pass savings along to businesses. Just more or less bolt on the body of choice on the EV platform and go.
But what if the chassis battery pack isn't quite ready for prime time—at least in very cold or hot weather? Losing 40, 50 or 60 planned miles of a route could really hurt a company's image and its bottom line.
That's why I'm getting concerned. When I asked Scaringe in 2018 about potential impact on range due to extreme ambient temperatures, he said (see video below at 1:08): "We have a very sophisticated way to manage the temperature of the battery. Regardless of ambient, we control the temperature of the pack to essentially the same temperature. So whether it's in Minnesota on a negative 30 degree day or if it's in Dubai on a 120 degree day, the vehicle maintains the same temperature within the battery pack."
Those words came back to me this week when I read the comments of a Reddit user who in a post titled, "R1T Overview – 2 months later," discovered that while his electric truck was not exactly up against an Arctic Siberian freeze-out in Southern California, it was still having a tough time nonetheless.
During an enviable SoCal day where temps hovered around 70 degrees, this R1T owner reported getting roughly 330 miles of range from a full state of charge (SoC) in conserve mode "with no A/C, seat heaters, defog, etc."
That all changed when the truck headed for the cold white stuff.
"On our trip to the mountains (~20F, snow, 'conserve' mode), we were lucky to get around 240 miles on a full charge on the highway, but we usually charged to ~90%, where we got ~215 miles on the highway. 'All-purpose' mode dropped range by ~20 miles," the user wrote.
It got worse when the truck was parked. Just parked in the cold.
"In the cold: left for four days, lost ~70 miles of range in freezing temps (SoC dropped ~20%). The car supposedly wasn't conditioning the battery during this time, and we only connected to it once via the app when we were ready to leave."
But then even milder weather was beating up the battery.
"Elsewhere: left for three days in 40F-50F weather, lost ~50 miles of range (SoC dropped ~15%). Did not connect via app. Gear Guard was off.​ In the garage: drops ~5 miles/day in LA weather with Gear Guard off and no app connections.​"
While the R1T owner also pointed out other concerns like with charging and software, those don't concern me as much as range depletion relative to ambient temperature. Charging and software issues probably have a good chance of being solved through patches and updates. Battery depletion, however, is more troubling.
Hey, if software tweaking can also address sinking range, great. If not, then Rivian's in for a rough ride. I reached out to Rivian this week for comment on the those range issues posted on Reddit but have yet to hear back. In the meantime, while we all patiently wait to see how all these impressive show horses like the R1T, F-150 Lightning and electric Silverado really perform at work, the safe bet remains on internal combustion particularly as fuel economy improves and emissions drop.