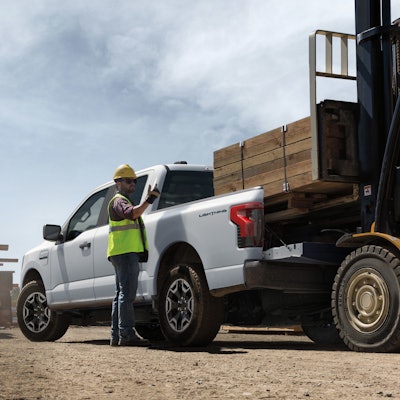 Ford
Commercial EVs look impressive at trade shows with zero emissions, massive torque and smooth, quiet performance. The charging systems that support them look impressive too.
But what about real-world performance?
While we've gotten seat time with electric trucks and vans at trade shows and OEM-sponsored events, we've yet to get really familiar with these battery-powered newbies.
So naturally it's not surprising that Ford PRO CEO Ted Cannis recently told Reuters that "a fear of the unknown" is keeping fleets from fully embracing EVs.
This fear of the unknown will undoubtedly continue so long as fleets and journalists have few opportunities to drive commercial EVs, load them up with cargo, tow things and charge them up. That last one is important because charging is a part of the overall performance profile. One commercial EV user, under condition of anonymity, reported having a terrible time with charging owed to apparent software issues. Priced at over $100,000 per charger, the expectation was that reliability wouldn't be such an issue. Turns out it is.
And good luck finding commercial EVs to review. Despite regular headlines which sometimes tout stock-pumping order commitments, there's just not many around. The only one I've seen in our area is a Tesla Model 3 with a local bank's name blazoned on the sides. That's not exactly a fully loaded electric van or truck. Not even close.
Second, a fear of known challenges facing commercial EV adoption may also be keeping fleets at arm's length. While the benefits of zero emissions and lower total cost of ownership are compelling factors, higher upfront costs for the vehicles and their chargers can be a little tough to swallow.
Other factors include the additional real estate needed for chargers; fleet duty cycle which may not be a good match for an EV; the potential for power outages and having a back-up plan; and technician training and service equipment acquisition which may or may not be necessary depending on the OEM agreement. For instance, under Volvo Trucks' Gold program, fleets turn to a Volvo truck dealer to handle electric truck service and maintenance.
Third, fleets of all vehicle classes have been battling plenty of challenges of late including inflation along with equipment, driver and parts shortages. With plenty of stress and uncertainty to go around, it's harder for a fleet to take on entirely new powertrains and amp-hungry chargers.
Of course, this could prove to be a pivotal moment for commercial EV manufacturers to step up and say, "We've got this. Electric vans and trucks can play a vital role in tackling work of all kinds including an unprecedented freight surge." Or words to that effect. Forgive me. I'm not exactly a marketing czar.
Smaller vehicle classes not as embattled as those working the front lines in Class 8 may be more likely to sign up now for all-electric. Parcel delivery, which gained big momentum thanks to a tidal wave of ecommerce, looks to be a good fit. Amazon, DHL, FedEx and UPS have certainly thought so with big investments in all-electric cargo vans.
But those are some of the biggest fleets in the world. What about the smaller fleets and the mom and pop businesses that fill nearly every downtown in the country? They don't exactly have the same resources as these mega fleets which means they've got more to lose—which again, makes real-world data all the more critical for them when it comes to making the switch to zero emissions.
Electric pickups could prove pivotal in attracting more fleets to EVs as long as they hold up well while hauling and towing. Rivian posted on their website that the 314-mile range in their all-electric R1T was roughly cut in half while max towing 11,000 lbs. That's not all that bad considering that a Nissan Titan XD diesel we tested lost about half of its fuel economy while towing 7,000 lbs. and carrying a bed full of oak firewood.
But then there's charging—both the time it takes to charge vehicles along with the time, cost and property required to set up those chargers in the first place. Also, it's important to study charging behavior which can be closely analyzed by fleets and charging companies alike to help maximize efficiency and lower utility bills.
The bottom line is that journalists and fleets alike have a lot to learn and need more real-world data to get there. To that end, manufacturers need to get their electric pickups and vans out to journalists who can spend more time getting familiar with features and capabilities just as they do with any other vehicle. A five-minute drive around a convention center isn't going to cut it. Spending a week or two or more with these vehicles is ideal considering the big, costly shift they present from internal combustion.
This is where it gets more challenging. OEMs typically work through a third party to supply journalists with vehicles for reviews. Getting an electric truck or van to a reporter that's 300 miles away or so can mean stopping off to charge up which takes additional time. That or they can have the EV towed on an ICE-powered flatbed which, cringy irony aside, increases the cost for delivery. Whatever the case, OEMs need to get it done.
Manufacturers can host more events to help reporters and prospective fleet buyers get a better idea of commercial EV behavior but it's not the same since company reps can hover like over-protective parents at a middle school dance party. The best option is to get these vehicles to trade journalists and fleets where they live so they can try them out for a while on streets they typically drive hauling and towing things that they typically haul and tow.
And it's not like DC fast chargers are scarce like they were a few years ago. We've got DC fast chargers in our area plus I've got 220 volts in at least three spots at our home so I'm fine with using an overnight charger. That'll provide me with even more data since some commercial EV drivers are expected to charge at home and get reimbursed through their employer.
So what's holding up EV manufacturers? Production mostly. There's just not that many commercial EVs to go around and so you can't really blame fleets for sitting cautiously in a wait-and-see mode while passenger car EVs and the sole Rivan R1T pickup pave the way for their bigger and more capable cousins to follow. Once they're ready, sign me up and let's put these zero-emission rookies to work to see what they can really do.