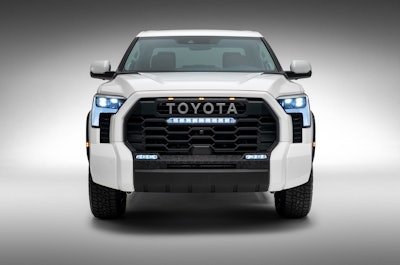 The 5.7-liter V8 in the 2022 Toyota Tundra is no more. It's been replaced with a 3.5-liter V6.
So how long before videos, podcasts and printed—yes old timey printed—articles emerge lamenting the loss of the Tundra's V8 growl?
Never mind that this new V6 offers more power than the outgoing V8. In fact, the 3.5-liter hybrid variant cranks out 437 horses and 583 lb.-ft. torque compared to the 5.7's 381 horses and 401 lb.-ft. torque. Even the standard 3.5-liter in the 2022 Tundra has more power than the 5.7.
Still, sound plays an important role. Try watching on old John Wayne western from the 1930s. The grainy sound kills it for me. Try watching Don Garlits' electric dragster on YouTube. Yes, electric powertrains are nuts on torque and can burn rubber like there's no tomorrow but there's no soul-stirring roar.
Maybe this adjustment will just take time. Maybe new Tundra owners really won't care. There's undoubtedly a group of V8 Tundra owners that appreciate a variety of powertrain options.
I'm glad that Toyota is now offering two 3.5-liter V6s on their 2022 Tundra—but that's all they're offering. No V8. Yes, it's one more engine than the 2021's sole powerplant, the 5.7, but it's still not much to get really excited about. It wasn't long ago that Toyota posted a diesel video on their YouTube site. Folks got excited wondering if an oil burner was coming to Tundra but it wasn't announced. Too bad.
Variety's nice and it helps build more excitement for a brand but the Tundra's sales numbers just aren't high enough to support the extra cost incurred for offering more engine options.
The top-selling 2021 Ford F-150 can be optioned with seven different powertrains. (Granted, you may have to wait a month of Sundays before getting a truck thanks to the chip shortage.) The F-150's diesel is on its way out and it appears the same holds true for the Coyote V8. Nonetheless, five engine options attract attention and help meet more consumer needs which for some includes saving money at the pump which takes us back to the Tundra's new 3.5-liter.
The 2022 Tundra's V6 will undoubtedly lower the truck's fuel bill, especially the hybrid variant. There's no disputing that the 5.7 is a gas hog with 13 mpg city and 17 highway. Improved mpg might make the truck more appealing to fleets and typical consumers.
Yes, some will lament the loss of the V8 growl—as they did when the F-150 Raptor dropped the V8 for the 3.5-liter high-output V6. But if a vehicle is passing you by because it's got more power, can tow more and it's got additional range thanks to a more fuel-sipping design, it's hard to keep cheering for second place no matter how good it sounds.
I think the V8's banishment is symbolic of a larger movement in the auto industry. When Ford's 7.3-liter Godzilla V8 hit the market, the old adage "There's no replacement for displacement" definitely came to mind. But emissions regulations aren't getting any easier. They're getting tougher and aiming not just for near-zero emissions but nothing at all. No tailpipe. Zero emissions. No V6 sound. No nothing but the hum, buzz and clicks of a high-tech, all-electric powertrain.
I think it's then that the sounds of the 70s, 80s, 90s so popular on satellite radio today will include tracks of roaring V8s. "Hey grandpa! Is that a Ram TRX? Crank it up! Let's pretend that we've got a supercharged V8." After letting it roar through 15-inch Fosgate subs for a few minutes… "Aw shoot, gramps, we've got to charge up the truck again." Sigh...time to check the app and find a charger.