Tom Quimby
Two things keep pestering me following my recent business trip to California: another round of COVID and extremely high gas prices.
Okay, crazy high gas prices I expected. Getting stuck with COVID again however added insult to injury. Thanks California! Fortunately, this bout isn't as bad as last year's and as the boss reminded me this week, "Hey, at least it's not monkey pox."
No joke. Seems like we're getting hit on all fronts and nowhere is that truer than in California where old friends are up against a COVID resurgence and counting their blessings for gas that sells for the so-called bargain price of $5.69 a gallon in our hometown of Vista. It's actually more than that now.
And brace yourself if you don't return your rental car filled up in California. Following my trip to the Advanced Clean Transportation Expo in Long Beach recently, I opted to stop at a gas station before returning my Hyundai Accent. Good thing. The company would have been hit with $9 a gallon gas at the rental agency whereas an Arco station close by was selling it for just under $6.
Prices have gotten so bad in California and elsewhere that President Joe Biden keeps trying and failing miserably to allay concerns regarding one of the most critical costs to fleets and everyday Americans alike. Here's a quick look back at just a few of Biden's fuel fumbles.
Following months of ongoing price hikes at the pump, Biden approached the podium in late March and blamed record prices on the post-COVID surge in fuel demand alongside big oil and Russia's invasion of Ukraine.
The president pointed out how the average price of gas had risen from $3.30 a gallon at the start of this year to roughly $4.22 on March 31 when he gave his controversial speech.
It was then that the president also took historic action that impacted the U.S. oil supply: he banned the import of Russian oil to the U.S. given their unprovoked attack against Ukraine and he ordered access to the U.S. Strategic Petroleum Reserve to help increase the nation's oil supply which he hoped would lower prices at the pump.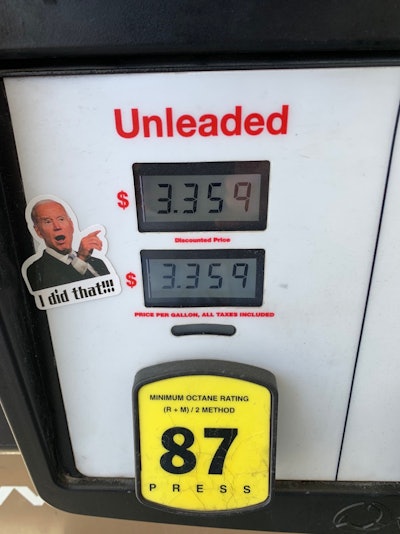 That unprecedented—there's that word again—release of what the president called "a wartime bridge to increase oil supply" amounts to one million barrels of oil a day from early spring through fall.
"It is by far the largest release from our national reserve in our history," the president said.
It's been nearly two months since the president began unleashing the greatest amount of oil ever from the strategic reserve. So what exactly have we gotten for our money? Well, we keep getting bleak headlines like this from USA Today: Gas prices continue to break records. How high will the cost go?
The lede of that story paints a dark picture: "The average price of gas in the U.S. is $4.52 as the all-time record continues to be broken."
Since Biden announced his plan nearly two months ago for lowering prices at the pump, the average cost of gas has gone up 7%. According to gasbuddy.com, the gas average shot up 52% under Biden's watch from $3.03 per gallon a year ago to $4.60 today.
Tougher news? Diesel, the lifeblood of American shipping, is now averaging $5.55 a gallon, a 75% jump in just one year. With negative headlines pouring in by the day—particularly as summer traveling season is expected to raise prices even higher—Biden is now thinking of releasing diesel from the Northeast Home Heating Oil Reserve according to CNN.
The president's scramble for fuel reminds me of a desperate teen scrounging for loose change under couch cushions and car seats just to eke out a little more fuel from the pump.
But it's more than that. The president played a familiar card this week that most every thinking American saw coming but is still highly annoyed to see nonetheless: it's your civic duty to pay more at the pump as we transition away from fossil fuels.
"When it comes to the gas prices, we're going through an incredible transition that is taking place that God willing when it's over we'll be stronger and the world will be stronger and less reliant on fossil fuels when this is over," Biden said during a press conference in Japan on Monday.
So in addition to blaming Russia, big oil and COVID for high fuel prices, Biden is embracing the mandated transition to green energy which he believes requires tough and sacrificial giving at the pump.
Of course, it's always easier playing with someone else's money and blaming someone else for oil supply issues.
But there's risk in that.The New York Times made it clear recently that voters don't easily forget high gas prices: "Rising gas prices have long been a political problem for presidents, who are often blamed for increases that are largely out of their control."
Largely out of their control? Better not tell that to supporters of the Keystone XL pipeline project which Biden quickly nixed after taking office given his administration's dedication to the proliferation of green energy no matter the economic risks already at play with unprecedented supply chain issues and serious geopolitical challenges.
During a Senate energy committee session, Alberta Premier Jason Kenney seemed to sum it up best.
"Vladimir Putin's brutal invasion of Ukraine has proven the danger of allowing dictators to dominate global energy markets and weaponize oil wealth," Kenney told the Senate. "And that's why we were, frankly, so taken aback when President Biden vetoed the Keystone XL pipeline. It would have safely delivered 830,000 barrels a day of responsibly produced Canadian energy to the U.S., more than displacing the 670,000 barrels a day that you all bought from Putin's Russia last year."
It's just too bad that a point like this is lost on Biden who's green vision is so stark and unreasonable that this 'noble' and 'sacrificial' transition he points to has become more of a dire cliff racking up millions of victims that won't forget at the ballot box.