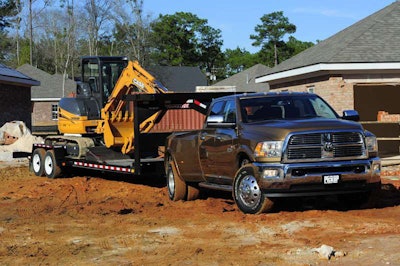 This weekend's announcement the National Highway Traffic Safety Administration (NHTSA) is forcing Fiat Chrysler America (FCA) to get more than 500,000 Ram pickup trucks that have defective steering parts and other issues off the road appears to be a major blow to the brand and company.
But is it really that big of a blow?
Sure, this is the biggest such action against an automaker in U.S. history, and coupled with up to $105 million in additional fines, some say a costly setback for Ram Truck.
NHTSA and FCA have agreed to get these "defective" pickups off the highway in one of two ways: 1) The owners have the option of getting them repaired, or 2) FCA will buy them back at "fair market value" (or as trade-ins) and then make the necessary repairs, re-selling the trucks.
That's the saving grace for Ram Truck: re-sale value.
For example, a 2011 Ram 2500 Crew Cab 4×4 SLT diesel in "good" condition with 80,000 miles is worth about $26,000 according to Kelly Blue Book on dealer trade-in. Ram fixes the truck, it gets a quick detail, and then it's put back out on the used truck lot for $29,000.
It's up to the dealer to determine what is "fair market value" based on the condition of the truck and the miles. That's a big plus for Ram Truck.
Even if all 500,000 Ram trucks on the list were bought back and each sold for only a $100 profit, Ram would be $50 million in the black. The same holds true for trade-ins on new Ram trucks. Ram will make money on every deal.
Ram says 60 percent of the affected trucks have already been fixed, and one has to think Ram owners are pretty happy with their trucks overall.
I think the majority of current Ram truck owners will have the steering and other safety issues fixed instead of trading-in or selling their pickups back to the dealer.
So don't look at the "buyback" being the death of Ram. This huge NHTSA fine and recall will be only be a short-term hitch in their getalong.