It was only a matter of time.
Earlier this week Ford announced it was testing the capability of an electric bike for when traffic made pickup and delivery too much to handle. But what if sidewalk traffic is no better?
Well, you just fly over it.
Workhorse Group Inc. has filed a Section 333 exemption with the FAA to deliver packages using its HorseFly octocopter that flies to and from a standard delivery vehicle. Under an aviation law enacted in 2012 permitting the use of drones for public safety, commercial use of drones is still prohibited, however most aviation law experts expect that the 2012 law will be extended to include commercial use of drones late this year or early in 2015.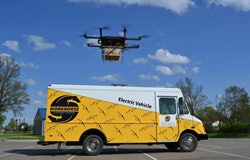 Workhorse Aerospace has teamed with the University of Cincinnati to develop all of the systems necessary to execute precision take-offs and landings on the top of a standard delivery truck in a variety of weather conditions.
When mated to a Workhorse Electric Truck, the HorseFly recharge from the large battery in the Workhorse truck. With delivery trucks scattered within almost any region during the day, the UAV can make short flights from the vehicle, as opposed to flying from a warehouse for each delivery.
Workhorse president Martin Rucidlo says the Horsefly is unique, not only because the company is looking to be the first Unmanned Aerial Systems (UAS) to make deliveries from a truck that is constantly on the move, but because it also takes advantage of the proprietary battery and system technology that Workhorse has developed in-house for its EPA approved electric work trucks.
Workhorse will demonstrate the capabilities of the Horsefly at the NASA Ames Research Center in Mountain View, CA the end of month during the NASA UAS Traffic Management Convention sponsored by the Association for Unmanned Vehicle Systems International (AUVSI).
Amazon has been working on the feasibility of drone delivery but their studies look mostly at dense urban areas within close proximity to a distribution center. The Workhorse model would essentially take the distribution center on the road.
Airborne shipping isn't exactly a new concept but taking flight from across town to your door step is an interesting possibility.