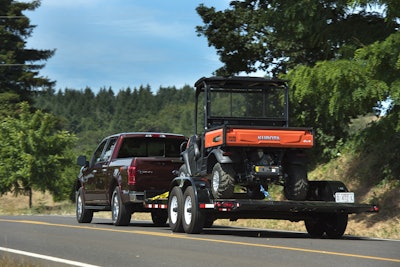 A lot of us never put much thought into towing with our pickups.
We back up to the trailer, crank the jack down until the ball seats in the trailer tongue, make the proper trailer connections, and head out on our merry way.
Yesterday I was doing my towing and fuel economy testing with a 2015 Ford F-150 Lariat 4×4 Super Crew with the 3.5L EcoBoost. A fine package.
My test trailer: a Landoll LT1220, a very nice tandem-axle tilt-deck that weights 3,200 pounds. I loaded a Kubota RTV 1120D utility side-by-side on it to bring the towed weight to 5,300 pounds.
This F-150 has a maximum tow rating of 10,700 pounds according to Ford's 2015 Towing Guide. But they recommend a weight-distributing hitch on trailered weights exceeding 5,000 pounds. My trailer was about the weight of an Alabama football team's lineman over that amount. No big deal.
I checked the Weigh-Safe hitch to see tongue weight: 500 pounds. That's close enough to the minimum 10-percent of trailered weight Ford recommends as well.
And the trailer was slightly down in the front, but not anything excessive. So, off I went.
Ten miles later I eased over and stop along the highway because the truck and trailer feels a little light and loose driving along the winding country roads and on the interstate.
A few minutes later I was back on the road, towing stability instilling confidence in this truck's ability to get the job done.
Here're the two simple adjustments I made – and ones I should have taken the time to do when first hooking up the trailer:
1) Moved the Kubota about a foot farther forward to bring the tongue weight, as shown on the built-in Weigh-Safe scale, to 650 pounds, or about 12% of the towed weight.
2) Then I raised the Weigh-Safe hitch ball up two holes so the trailer and F-150 frames were close to being parallel (trailer still had a slight tongue-down attitude.)
Those two little adjustments make a huge difference when towing with any midsize of 1/2-ton pickup.
Granted, by Ford's towing recommendations, this weight trailer should have had a W-D hitch being used instead of just towing on the factory hitch. But most of you reading this aren't going to invest neither time nor money in a W-D hitch setup.
But you probably will take the time to fine-tune the trailer setup like I did. And if you do, I can guaranty the difference in the way your work truck feels towing will be worth those extra couple minutes.
Fine-tuning the trailer setup sure made a difference in how the 2015 F-150 I'm road testing this week handled the load.