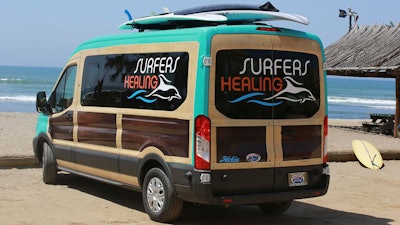 The guys at Galpin Auto Sports have made a name for themselves as custom fabricators and master ride-pimpers on MTV's "Pimp My Ride," but their latest bling-job was for a good cause, not one of rapper Xibit's "dawgs."
Ford recently donated a new 2015 Transit – now the best-selling commercial van in America – to Surfers Healing, an organization that helps kids with autism go surfing.
Now, few things are more boring to a child than a commercial van. That's where Galpin Ford's ride pimpin' expertise comes in handy.
In a true nod to surfing, Galpin Ford specially upfit the Transit as a woody-style van with roof racks to transport surf boards. Time in the ocean helps children who suffer from autism cope with sensory overload, so it was equally important that the van had enough cargo space to move wetsuits and life vests, plus seats to transport campers and their families.
Longtime surfer Izzy Paskowitz co-founded Surfers Healing, a nonprofit based in San Juan Capistrano, Calif., after taking his autistic son out surfing for the first time and discovering how empowering it was for his son
Surfers Healing has hosted more than 4,500 autistic children at its camps around the world.
In terms of sheer coolness, this ride gets a Hang Ten out of 10, and it's a very cool highlight to Autism Awareness month (April).