In fishing for a partner in its "Blue Citizenship program," Nissan landed the Great White Whale.
The program focuses on increasing the number of vehicles that emit no greenhouse gases by exploring additional vehicle segments where Nissan's electric vehicle technology may be applied.
What better partner in such a venture than FedEx, a company that puts more vehicles on the road daily than just about anyone on the planet?
FedEx Express says it will test Nissan's fully electric compact cargo vehicle – the Nissan e-NV200 – as part of its delivery fleet in the Washington, D.C. area.
The front-wheel drive e-NV200 is "fueled" by the same lithium-ion battery system in the Nissan LEAF – a fully-electric passenger car – and can be charged up to 80 percent of its full capacity in less than 30 minutes when equipped with a quick charge port and using a fast charger.
Nissan hasn't released performance specs for the van, but considering it's using all the same components as the LEAF (and weighs nearly the same), the van should have a range of 80-100 miles on a full charge.
That may not sound like much to us daily commuters, but in a densely populated area like Washington, D.C., range is likely somewhat moot, especially considering you can give a properly equipped van a quick recharge over a lunch break.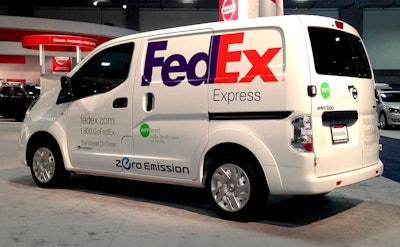 With so much attention focused on compressed natural gas as a fossil fuel alternative for return-to-base fleets, electric gets lost in the shuffle. And not without reason. Not every application has an 80 mile radius, and payload is certainly a consideration. As such, its not likely every FedEx Express D.C. delivery route is a good fit for this solution.
However, if this kind of technology is ever going to get off the ground, someone's going to have to roll the dice. And in this case, it's FedEx.
This test marks the first time the vehicle will run North American roads, but FedEx Express and Nissan have conducted similar e-NV200 tests with fleets in Japan, Singapore, the United Kingdom and Brazil.
Now, it may be important to acknowledge that FedEx Express is only expected to use these vehicles for up to eight weeks. In fact, Nissan will only bring a limited number of the van stateside. FedEx will use it for about two months before it begins making the rounds to other fleets.
Nissan plans to gather all the delivery-driven data to, among other things, figure out if it even wants to sell the e-NE200 in the U.S.
Technology on EVs has come a long way and it has a ways to go yet, but I would bet on an EV delivery van bringing you an online order before I would a delivery drone.