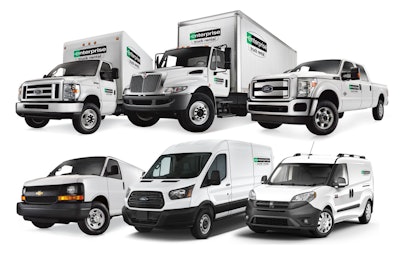 Over the past decade, Enterprise Truck Rental has responded to increased fleet and consumer demand by tripling the number of its locations from 100 to more than 300 around the U.S., Canada and Puerto Rico.
Enterprise responded to questions recently about its continued growth which includes the recent release of Enterprise Telematics, an optional feature powered by Geotab and available in the U.S. and Canada.
"We are actively looking at expanding our business in areas of increasing commercial growth and consumer demand," said Frank Thurman, corporate vice president of Enterprise Truck Rental. "Our goal is to continuously identify ways to meet customers' transportation needs, and these new locations are just another way for us to do that."
Enterprise first began renting commercial trucks in 1999 and, in response to customer demand, started offering truck rentals for personal use a decade later. In 2016, Enterprise Truck Rental began offering tow-capable pickup trucks for personal use, also in response to customer demand. Today, rentals for personal use account for 20 percent of Enterprise Truck Rental's business.
Special thanks to Thurman for taking the time to answer HWT's questions.
HWT: What largely accounts for the growth at Enterprise Truck Rental?
Thurman: We have responded to customers by opening new locations to meet both consumer and commercial demand. We've also added vehicle types and products—like towing and telematics—to provide customers the support they need. In addition, companies are recognizing that truck rental is a convenient and cost-effective way to handle their fleet needs, from pickup trucks and cargo vans to box trucks. And we provide great service along the way.
HWT: Has an increase in online commerce activity helped to stimulate growth?
Thurman: Yes. As consumer buying habits have shifted throughout the years, we've experienced increasing demand for vehicles by delivery companies in the e-commerce industry.
HWT: What vehicle types and sizes are proving more popular and why?
Thurman: We've seen demand increase for both light- and medium-duty vehicles on both the commercial and consumer side. We're excited about continued growth in both segments, including the opportunity to expand our consumer towing offering as we add more locations.
HWT: What's the demand like for alt fuel trucks and vans?
Thurman: Alternative fuel is always an important topic in the industry, though the recent decrease in fuel prices has quieted some of the discussion. We are continuously checking the pulse of our customers regarding their transportation needs, including alternative fuel options, and will continue to respond accordingly.
HWT: Any times of the year that prove to be more active for truck rentals? Why?
Thurman: We do tend to see seasonal peaks throughout the year based on our customers' respective industries. For example, home delivery is particularly active over the holiday season, while personal moves tend to peak in the late-spring and summer. And we know rental is a great option for companies that will be handling infrastructure and other mid- to long-term construction projects in the next few years.