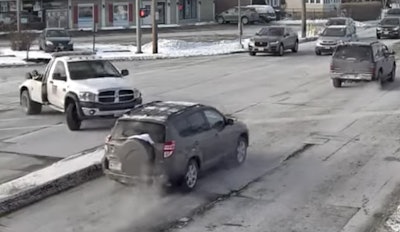 Police are still looking for a tow truck driver that was involved in more than a dozen collisions recently in the Chicago suburb of Park Ridge.
Park Ridge Police released a surveillance video of the white Ram truck as it made a wild right turn in the area of Northwest Highway and Oakton Street on New Year's Eve. Unfortunately, the license plate of the truck isn't visible in the brief clip posted below.
Police report that a tree limb in the truck's tow lift hit at least 14 vehicles on Dec. 31 causing significant damage. No injuries were reported. The truck is a newer model Ram with AAA emblems on its doors.
The truck was later seen weaving in traffic in Chicago. Police attempted to pull the truck over, but the driver refused to stop, according to abc7chicago.com.
AAA reported that an initial investigation revealed that the truck is not affiliated with their company.