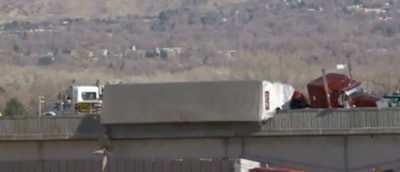 Today on one of the busiest traveling days of the year, the Utah Highway Patrol says motorists were lucky no one was injured after several cows fell to their deaths onto I-15 from an I-84 overpass in Riverdale, Utah.
UHP reports that a speeding cattle truck lost control on the overpass, tipped over and dumped several cattle onto I-15 below near Ogden.
"We don't blame the road for this one. We blame the drivers," UHP trooper Lawrence Hopper told The Salt Lake Tribune. "It's certainly something that was preventable."
Traffic was delayed for several hours. A similar accident occurred last year in nearly the same location. Seventy cows were killed at that time and no people were injured.