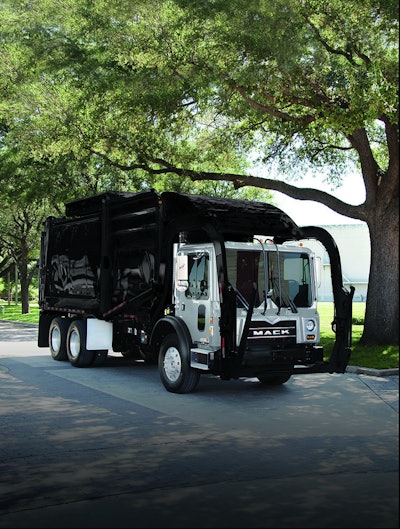 Mack LR and TerraPro models are now available with the Cummins Westport L9N natural gas engine, enabling customers to meet near zero NOx emissions levels while providing excellent performance and efficiency.
Mack made the announcement at the 2017 Canadian Waste & Recycling Expo in Niagara Falls, Ontario.
"Natural gas continues to be a viable alternative fuel, providing a secure fuel supply and a steady price," said Curtis Dorwart, Mack refuse product manager. "With the L9N, customers can take advantage of natural gas' benefits and further reduce their environmental footprint."
The spark-ignited L9N is capable of running on compressed natural gas (CNG), liquefied natural gas (LNG) or renewable natural gas (RNG). It produces 320 horsepower and 1,000 lb.-ft. of torque.
According to Cummins Westport, the L9N is among the lowest certified NOx emission engines available in North America, producing NOx exhaust emissions that are 90 percent lower than the current EPA limit of 0.2 g/bhp-hr. The L9N is also certified to the EPA's GHG2017 emission requirements.
The Mack LR model is built specifically to meet the challenges of refuse customers who require enhanced maneuverability, increased driver comfort and improved visibility. With both 6×4 and 4×2 configurations available, the Mack LR model works for customers with tight urban or open suburban applications. Several control options are also available, including left-hand drive, right-hand drive, dual-drive and left-hand drive/right-hand stand-up drive.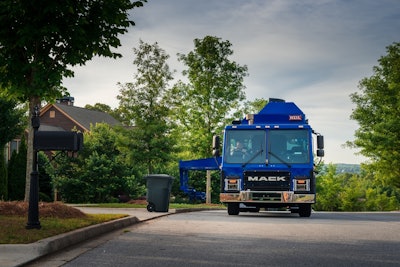 Mack's 11-liter MP7 diesel engine is standard in the LR model, delivering up to 355 horsepower and 1,260 lb.-ft. of torque. The LR model is equipped with an Allison RDS five-speed or six-speed automatic transmission.
Mack's rugged TerraPro model enables customers to pack maximum payload into a compact footprint. Ideal for commercial front loading and rear loading applications, the TerraPro's shorter overall length provides superior maneuverability, while its slimmer cab width allows it to navigate narrow spaces.
The TerraPro also boasts the tallest forward glass area in the industry, improving safety by giving drivers superior visibility. In addition to the L9N, the TerraPro model is available with Mack's MP7 and MP8 engines.
Mack LR and TerraPro models spec'd with the Cummins Westport L9N are available for order now. For more information, visit your local Mack dealer.