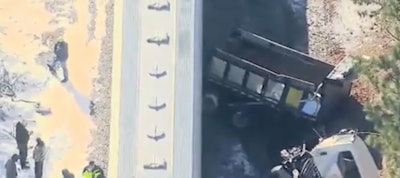 A train struck and killed a Georgia Department of Transportation worker today as he attempted to drive a salt truck equipped with a plow across tracks in Moreland, a small town about 40 miles southwest of Atlanta.
Sixty-year-old Carey Byron Ellerbee of Thomaston, Ga. had been traveling with two other GDOT trucks when he began approaching a railroad crossing along Ball Avenue. Drivers in the other trucks, both of whom had seen the oncoming train, tried waving at Ellerbee to get him to stop, but he kept driving, according to the Coweta County Sheriff's Office.
The impact was so severe that a woman who lives near the tracks said her house shook "like a bomb went off" when the train slammed into the truck and tore it apart.
Ellerbee had been working long hours brought on by cold, snowy weather so officials are looking into whether fatigue played a role, according to fox5atlanta.com.
While a railroad crossing sign is posted, there are no lights, gates or bells to warn of oncoming trains at the intersection.