Hurricane Ian is currently steaming toward Florida's west coast with an anticipated landfall as soon as Wednesday as a major storm, prompting Florida Gov. Ron DeSantis to issue a state of emergency, suspending hours of service regulations, along with certain size and weight restrictions in the state. Hurricane Ian is currently a Category 3 hurricane and is expected to strengthen as it moves across the Gulf of Mexico toward Florida.
Freight movement is among the many things caught in the upheaval of a serious weather event. Load posts and spot truckload rates usually surge when shippers anticipate the approach of a big storm.
Last year, during the last week of August and with Hurricane Ida on the way, the total number of van, refrigerated, and flatbed loads posted to the DAT network increased 10% while truck posts fell 4.3% week-over-week. New Orleans inbound van load volumes rose 5% week-over-week and outbound volumes increased 19%. Ida, a Category 4 hurricane, became the second-most damaging storm to make landfall in Louisiana, behind Hurricane Katrina.
Ken Adamo, DAT chief of analytics, noted there's a common misconception that weather events impact outbound freight when it's really not so much the case. When Hurricane Harvey made landfall in Houston in August 2017 near Port Aransas, it sent inbound and outbound rates in the Houston area skyward. Outbound loads normalized quickly, "within a week or so," Adamo noted, but inbound rates remained elevated through the rest of the year.
"We learned from the flooding in Houston several years ago that inbound volumes pick up immediately after the storm as supplies move in. Outbound volume waits a week or two as shippers slowly restart their operations," said Noel Perry, chief economist at Truckstop.com. "Since Florida is primarily inbound for dry van, this means little in relation to normal patterns. For reefer, the outbound truck type, the recovery could be delayed for more than two weeks if the storms damage the crops."
Recovery efforts in the Sunshine State could be a boon to van and reefer spot rates that are about 43-cents and 28-cents lower, respectively, than contract rates, falling since January 2022, 33% and 26%, respectively, while contract rates decreased by 3.7% and 4.1%, according to DAT.
The Lakeland, Florida, market, which includes Tampa and Orlando, is typically imbalanced, with much more freight coming in than going out, Adamo said.
"We're seeing capacity moving out of central Florida now and, if the weather forecasts hold, the demand for freight into Lakeland will be significantly higher over the next few weeks. Rates on the spot market should increase as well," he said. "The question is how will the storm affect movements throughout the Southeast? Hurricane Harvey was so significant, and Houston is such a large, diverse market, that the storm affected lanes that are unrelated to Houston. How much will the need for inbound recovery and backlogged loads into Florida pull away or drive rates on other lanes or markets like Atlanta, for example? The severity of the storm will help provide those answers."
Hours of service regs, size and weight restrictions lifted in Florida ahead of Hurricane Ian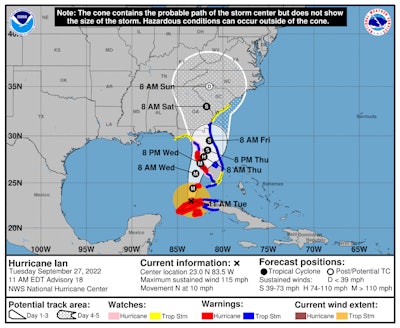 An emergency declaration from Florida Highway Safety and Motor Vehicles exempts truck drivers providing emergency services or supplies; transporting emergency equipment, supplies or personnel; or transporting FEMA mobile homes or office style mobile homes into or from Florida from parts 390-399 of the Federal Motor Carrier Safety Regulations until Oct. 23.
Regulatory relief is only granted to drivers providing direct assistance for emergency relief. Drivers operating under the exemption must keep a copy of the waiver with them at all times.
DeSantis also issued an executive order suspending the size and weight restrictions for divisible loads on any vehicles transporting emergency equipment, services, supplies and agricultural commodities and citrus.
Overweight vehicles are required to operate within certain parameters, listed in this order. Trucks must also not exceed 14 feet wide, 14 feet six inches high and 95 feet long.
Vehicles greater than 10 feet wide and up to 12 feet wide, and up to 80 feet long, are required to travel with one amber warning light while operating on state-maintained roadways in Florida.
Trucks greater than 10 feet wide (up to 12 feet wide), and up to 95 feet long have to travel with two amber warning lights (one on the front and one on the rear) while operating on state-maintained roadways in Florida.
Vehicles greater than 12 feet wide (up to 14 feet wide), and up to 95 feet long are required to have an escort and two amber warning lights (one on the front and one on the rear) while operating on state-maintained roadways in Florida.
Finally, trucks larger than 10 feet wide must have an escort when traveling south of Florida City, and no overweight loads are permitted south of Florida City.