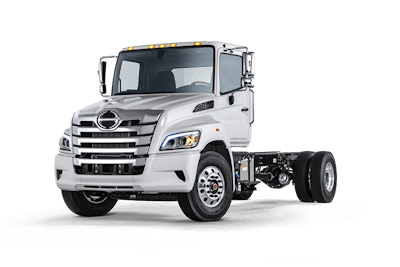 Hino
Toyota shut down its Japanese factories this week following a ransomware attack on one of its suppliers.
Hino Motors, a truck manufacturing arm of Toyota, was among the brands impacted by the shutdown which took place at over a dozen factories on the island nation on Monday and Tuesday. Toyota, which produces one-third of its vehicles in Japan, hoped to restore production Wednesday.
Business daily Nikkei Asia reported that Toyota supplier Kojima Industries was struck by a crippling ransomware attack. With their systems still down as of Tuesday, Kojima and Toyota expressed confidence in working around the attack and restoring production by mid-week.
On Tuesday a Toyota spokesperson in the U.S. did not have any "update at this point on on if, or how, the US could be impacted" by the shutdowns. Trucks produced in Japan are not currently imported by the U.S.
"We sincerely apologize for any inconvenience this may cause to our customers who are waiting for their vehicles, and to our suppliers for any inconvenience this may cause," Toyota Motor Corporation said in a statement. "We will do our best to deliver the cars to the customers as soon as possible."
According to the Associated Press, the attack on Kojima Industries Corporation, which supplies Toyota with plastic interior parts, came one day before Japan pledged support for Ukrainians desperately fighting for their country's independence from Russian invaders.
On Sunday, Japanese Prime Minister Fumio Kishida announced that Japan would join with other nations, including the U.S., in preventing Russian banks "from accessing the SWIFT international payment system," according to Reuters.com.
Though it's unclear who crippled Kojima's data networks, Russian President Vladimir Putin threatened last week to attack Ukrainian supporters. Russian hackers have taken down various Ukrainian websites and computer-dependent systems including internet services.
In response, SpaceX founder and CEO Elon Musk supplied Ukraine with Starlink terminals that provide high-speed, satellite-based broadband that restored web access.
Russia continues to find itself under increasing scrutiny as more nations and companies take action to punish the country for its deadly and destructive attacks in Ukraine, one of several former republics of the Soviet Union which Putin has long said he wishes to reunite under Russian leadership.
Petroleum giants Shell and BP recently ceased busines operations in Russia along with UPS, GM and Ford.
"We at Ford are deeply concerned about the invasion of Ukraine by Russia and the safety of the Ukrainian people," Ford CEO Jim Farley posted on Twitter Tuesday. "Effective immediately, Ford is suspending our limited operations in Russia and taking action to support the Global Giving Ukraine Relief Fund."