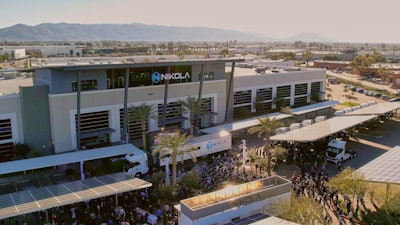 Nikola Motor Company says five battery electric trucks were burned at its Phoenix headquarters Friday.
In a post to LinkedIn, the company says foul play is suspected because a vehicle was seen in the area just prior to the incident. It says an investigation is underway.
[RELATED: Alta eMobility expands territories with Nikola]
Nikola spokesperson Nicole Rose said the company does not anticipate any production issues resulting from the truck fires.
Fire officials told local television news that there is a risk of the fire reigniting because it involves numerous battery cells. Phoenix Fire Department officials are asking the public to avoid the area near the facility at 40th Street and Broadway Road on Friday morning.
The company announced layoffs a week ago, both in Arizona and in Europe. Around 120 employees based in Phoenix and Coolidge, Arizona, were affected, along with 150 team members in Europe. Nikola says it supported those affected employees with transition assistance.