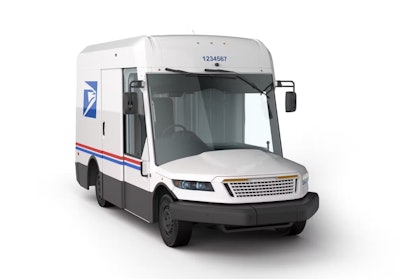 The Postal Service is doubling its order of battery-electric vehicles.
In a recent announcement, the nation's largest mail carrier reported a BEV order increase with Oshkosh Defense from 5,000 to 10,019 units. The majority of vehicles with that initial order of 50,000 vehicles are being spec'd as internal combustion.
The BEV and ICE order is part of the Postal Service's new Next Generation Delivery Vehicle program, which in addition to cutting emissions, offers greater creature comforts and safety features.
The bigger BEV order followed additional research including route analysis which proved favorable for all-electric vans.
"Today's order demonstrates, as we have said all along, that the Postal Service is fully committed to the inclusion of electric vehicles as a significant part of our delivery fleet even though the investment will cost more than an internal combustion engine vehicle," said Postmaster General and USPS Chief Executive Officer Louis DeJoy.
"That said, as we have also stated repeatedly, we must make fiscally prudent decisions in the needed introduction of a new vehicle fleet," DeJoy continued. "We will continue to look for opportunities to increase the electrification of our delivery fleet in a responsible manner, consistent with our operating strategy, the deployment of appropriate infrastructure, and our financial condition, which we expect to continue to improve as we pursue our plan."
Unlike the current Long Life Delivery Vehicles (LLV) the NGDV will feature air conditioning, improved ergonomics, and some of the most advanced vehicle and safety technology — including 360-degree cameras, advanced braking and traction control, air bags, a front-and rear-collision avoidance system that includes visual, audio warning, and automatic braking. The vehicles will also have increased cargo capacity to maximize efficiency and better accommodate higher mail and package volumes.
The $2.98 billion contract with Oshkosh will eventually replace 190,000 Long Life Vehicles at the post office, many of which have been on the road for over 30 years.
The next gen mail vans are expected to hit the road in late 2023. The Postal Service generally receives no tax dollars for operating expenses and relies on the sale of postage, products and services to fund its operations.