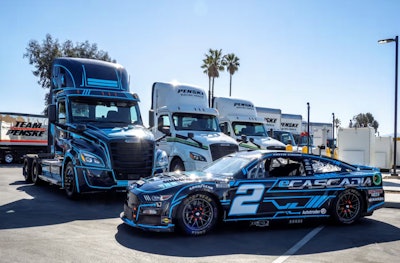 Penske Truck Leasing
In a unique combination of firsts, Penske Truck Leasing's Freightliner eCascadia became the first all-electric truck to deliver a race car to a NASCAR event which was held for the first time at the historic L.A. Coliseum.
Sunday's exhibition race dubbed the Busch Light Clash at the Coliseum saw the 99-year-old stadium that's home to the USC Trojans transformed into a ¼-mile track where Team Penske's Joey Logano took first place in his #22 Ford Mustang.
Though Logano's teammate, Austin Cindric, didn't qualify for the race, his #2 Mustang definitely had a more memorable arrival thanks to Penske's eCascadia.
Cindric's car made the roughly 50-mile trip tucked inside the Discount Tire Ford/Freightliner trailer from a Penske Truck Leasing location in Ontario, California.
But long before arriving in L.A., the zero-emission 60,000-lb. rig had been turning heads thanks to its eye-catching graphics and electric tractor badging.
"It was operating in the Ontario area and came to a stoplight where bystanders on the sidewalk looked over, read [the badging] and asked the driver, 'Is that really an electric tractor?'" said Paul Rosa, Penske Truck Leasing's senior vice president of procurement and fleet planning.
Once they confirmed that it was battery-powered, they snapped a picture before it headed off. It's that kind of recognition that Penkse and Freightliner never tire of seeing, and with the L.A. Coliseum's 72,000-plus seating capacity, the odds go up for more photo-snapping truck fans.
"It's a really exciting opportunity," said Mary Aufdemberg, general manager of product strategy and market development at Freightliner parent company Daimler Trucks North America.
"I think really this speaks to the partnership between the two companies and our joint interest in sustainability and new technologies," Aufdemberg continued.
The partnership now includes Cindric's race car which matches the eCascadia and features eCascadia branding for plenty of NASCAR fans to see.
"We've done a lot of great work together in bringing the eM2 and the eCascadia to market with our partners here at Daimler and Freightliner," said Randy Ryerson, vice president of marketing, communications and events at Penske Truck Leasing.
Penske Truck Leasing was the first company in North America to take delivery of Freightliner's new electric trucks in 2018. Penske Truck Leasing has been collaborating closely with Daimler Trucks North America to road test and provide feedback about the performance of 10 Freightliner eM2 trucks and 10 eCascadia tractors.
Penske's partnership with Freightliner stretches back nearly 40 years.
"Team Penske has been evolving with Freightliner since 1984," said Chris Yoder, director of transportation at Team Penske. "I think it's safe to say we've operated every model road tractor Freightliner has produced since 1984. Today's trip with the eCascadia will mark the pinnacle of our partnership. Together we've innovated and developed on the ground floor and this trip is symbolic of the next journey we plan to take together, a carbon neutral future with a focus on sustainability."
While Penske would not confirm if their 250-mile range eCascadia would be making other NASCAR appearances, they do anticipate seeing all-electric commercial vehicles taking on greater roles historically held by their diesel counterparts.
"We've got the eCascadia, we've got the M2. On the school bus side, we've got the Jouley Saf-T-Liner C2 [marketed by Thomas Built Buses]," said Aufdemberg. "We've also got the FCCC [Freightliner Custom Chassis Corp.] walk-in van. So we're pretty excited about where our portfolio is. And I can tell you, we're pretty excited about where our portfolio will keep going."