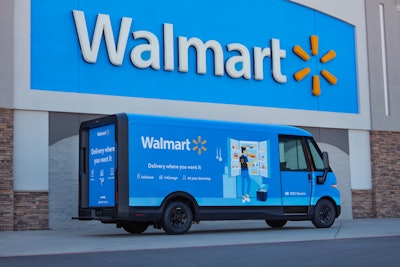 BrightDrop
BrightDrop, the commercial electric vehicle company launched last year by GM, announced van deals today with Walmart and FedEx.
The world's largest retailer, Walmart, reserved 5,000 of BrightDrop's battery-powered vans as part of its push to expand its ecommerce and in-home delivery services.
"BrightDrop is an important part of this equation," said Walmart CEO Doug McMillon. "We've been impressed by BrightDrop's ability to bring a sustainable EV to market."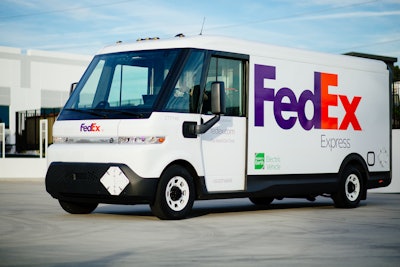 Walmart will be acquiring BrightDrop's 600 cubic foot EV600 and its smaller 410 cubic foot EV410. McMillon explained that the zero-emission vans, which are expected to begin arriving in 2023, will play a vital role in Walmart's sustainability goals as it seeks to grow its ecommerce delivery service as well as expand its in-home delivery service from 6 to 30 million households by the end of 2022.
The more than 3,000 drivers needed for these vans will be drawn from a current pool of Walmart associates.
Early BrightDrop partner, FedEx, signed an agreement reserving priority production for 2,000 electric BrightDrop delivery vans over the next few years. This agreement adds to FedEx's initial reservation of 500 BrightDrop EVs announced last year, five of which it recently received in Southern California.
"We are very, very pleased with them," said Richard Smith, FedEx president of the Americas.
FedEx is working on a plan to add up to 20,000 more vans in the years to follow, subject to further negotiations and execution of a definitive purchase agreement. FedEx also unveiled plans to expand testing of BrightDrop's electric package transporter, EP1, to 10 markets beginning in 2022.
"FedEx and BrightDrop have made stunning progress together in the span of just one year," Smith said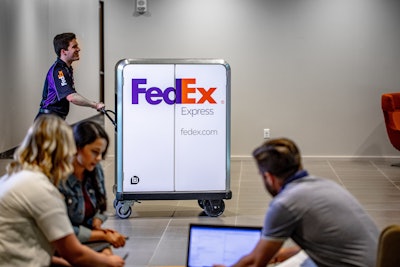 This past year in New York City, FedEx participated in a pilot to use BrightDrop's electric package transporter, the EP1. Instead of lugging around a handcart, drivers can guide an enclosed, battery-powered cart with up to 200 lbs. of packages.
"We found that it helped to increase our delivery efficiency by 15% and cut curbside dwell time in half all while reducing physical strain on our couriers," Smith said.
BrightDrop CEO Travis Katz said the EV600 went from vehicle conception to customer delivery in just 20 months, "making the EV600 the fastest vehicle to market in GM's history."
It's not just the demand for zero emissions and increased sustainability that's driving the commercial EV market.
"There's real urgency here," Katz said. "Ecommerce is expanding at an exponential rate. By 2023 FedEx estimates that 100 million packages will be delivered every day in the U.S. alone. This growth presents an amazing business opportunity but it also creates real life challenges including labor shortages, increasing congestion on our streets and an increase in carbon emissions. At BrightDrop we're not only creating solutions to address these challenges but have the ability to deploy them at scale."